Kansas
AG

asks Trump to repeal

EPA

regulations on climate, water quality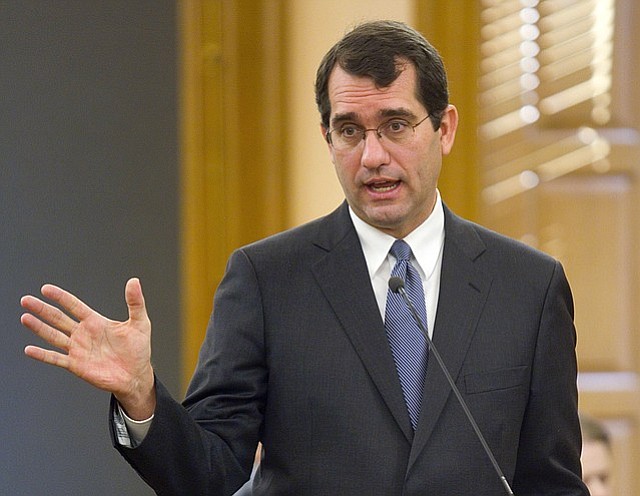 TOPEKA — Kansas Attorney General Derek Schmidt has joined his counterparts in more than 20 states urging President-elect Donald Trump's administration to immediately repeal new regulations dealing with climate change and water quality, claiming those regulations are "illegal."
In separate letters to Trump's transition team, Schmidt and other attorneys general urged the new administration to repeal President Barack Obama's Clean Power Plan, which requires every state to reduce carbon emissions coming from power plants that burn fossil fuels, along with new definitions under the Clean Water Act that extend protection to small streams and tributaries.
"These major regulatory initiatives by federal agencies exceed the authority granted by Congress and are plainly illegal," Schmidt said in a statement released Thursday. "We are challenging them, and the courts have sided with Kansas and the other states. At this point, we think the best course of action is for the new administration to withdraw the illegal rules and address the environmental issues involved in a lawful manner."
Schmidt has joined with other attorneys general in multistate lawsuits challenging both sets of regulations.
The Clean Power Plan was finalized in August 2015. Its goal is to reduce climate-changing carbon emissions from power plants 32 percent by 2030. But in February of this year, the U.S. Supreme Court put the rules on hold until the D.C. Circuit Court of Appeals could conduct a thorough review.
The Court of Appeals heard oral arguments in the case in September and has not yet issued a ruling.
The dispute over clean water rules stems from new language written by the Environmental Protection Agency and the U.S. Army Corps of Engineers in June 2015 that defines "Waters of the United States," which are bodies of water that fall under regulations of the Clean Water Act.
Several states, including Kansas, with backing from agricultural interests, have challenged the new definition, saying it extends EPA's reach into even the smallest creeks, drainage ditches and farm ponds, something they say is beyond the original intent of the Clean Water Act.
EPA officials, however, deny that the rules expand the agency's authority. They say the new definitions were based on existing law as well as scientific reviews of data that show the nation's watersheds in greater detail.
Zack Pistora, who lobbies for the Kansas chapter of the Sierra Club, said he believes Schmidt is taking the wrong approach on both issues.
"Agriculture is still one of our biggest industries, and climate change affects agriculture," he said. "We're undergoing our warmest year yet. It would be illogical for our Kansas leadership to ignore climate change or to not do anything about it."
Regarding the expanded water regulations, he said the new rules help protect larger bodies of water downstream from the impact of farming practices upstream.
"Phosphorous and nitrogen runoff from fields and feedlots is causing major problems downstream and in the Gulf of Mexico, where you have algae blooms and dead zones," he said. "It's also feeding into lakes in Kansas, where we're having more toxic blue-green algae in our reservoirs."
More like this story