Roesler: Exciting year ahead for the Shawnee Dispatch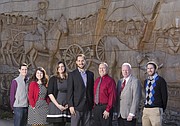 As the first month of 2016 wraps up, I couldn't be more excited for the future of the Shawnee Dispatch and the community as a whole.
This first Sunday edition marks the first issue of our 13th volume of the newspaper. That's 13 years covering the city, schools, businesses and people closest to you. Our new Sunday edition will only enhance our ability to bring you Shawnee's latest news in a timely and thorough manner, twice a week in print and seven days a week at our website, ShawneeDispatch.com.
I wanted to take this opportunity to reintroduce myself and explain some of the exciting changes the Shawnee Dispatch has planned for 2016. I also want to thank the community of Shawnee for supporting your local paper for so long. We've seen it as a real privilege to serve the people here for more than a decade, and we look forward to expanding our offerings for you this year.
We also want to open our doors. Our paper is not possible without you, Shawnee. If you'd like to see something included in our pages that we are not currently offering, please let us know. We want to be the paper that you look forward to opening twice a week to read the stories about the neighbors, businesses, schools and events that are closest to you.
I'm a Kansas University graduate and covered crime and courts in New Mexico for two years before moving back to the Midwest. I've been the news editor for the Shawnee Dispatch since August 2014. It's been a true pleasure getting to know the people of this vibrant city, learning its rich history and sharing those stories with our readers.
As we look ahead into 2016, we're already implementing a couple new ideas to better serve you:
• I will be starting a new column that will provide an even more thorough look at city government and business news in Shawnee than we already offer. Some of our most popular stories over the past several years have been ones about new businesses coming to the city. My column will provide an early look at new businesses opening here so you know what to expect before the signs go up on the buildings. I will also publish city news that doesn't always make our biggest headlines. A lot happens at City Hall, and my column will allow me to give you a glimpse of some of the other decisions being made by your city leaders that don't always get full coverage.
• Our new education reporter, Caroline Boyer, will have a column looking deeper into the Shawnee Mission and De Soto school districts. We know a big reason you live in Shawnee is for the great schools here, and we want to provide the most complete picture of what's happening in the classroom. Caroline is a perfect fit for this role as she is a Shawnee Mission Northwest graduate and parent of a soon-to-be Shawnee Mission schools student.
• Melissa Treolo, our features reporter, will also be launching a new column: a Wednesday feature dedicated to highlighting your community events that will offer a glimpse into what's happening in and around Shawnee, so you can plan your weekend ahead of time.
• And our expanded sports staff of Mike Lavieri and Chris Duderstadt will be providing more stories than ever before about students participating in local prep sports. This year, we're making it a priority to include more photos and features about our local athletes.
We're excited to continue to tell your stories. As part of that, we want to hear from you. We encourage you to send letters to the editor and any photos you take around town that you think our readers, your neighbors, would like to see. Feel free to start conversations with us on our Facebook and Twitter pages, which are updated several times per day. You can reach me or any of our reporters by phone at 913-962-3000. And we will always have an open door at our office at 6301 Pflumm Road during our usual business hours of 8 a.m. to 5 p.m. Monday through Friday.
We thank you for your readership and look forward to bringing you even more Shawnee news for years to come.