Power restored to more than 1,200 in Shawnee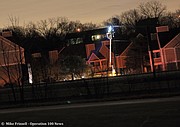 Kansas City Power & Light says an equipment failure in the area of Shawnee Mission Parkway and Renner Road caused a power outage to more than 1,200 customers early Tuesday.
Shawnee firefighters responded to the Hampton Woods Apartments, 16900 block of West 68th Street, late Monday night on a transformer fire. The fire left a utility pole and transformer with damage.
Just after midnight, KCP&L's outage map on their website showed approximately 1,250 customers without power along Interstate 435, between Midland Drive and Holliday Drive. That number was revised to approximately 872 customers around 12:30 a.m.
The Holiday Inn Express & Suites along with the Courtyard Marriott were both without power during the outage. Homes on the west side of Interstate 435, north of Midland and east of Lawrence Road were also without power.
Power was restored to all area customers shortly before 2 a.m. Tuesday.
---
Operation 100 News provides overnight news coverage for the Shawnee Dispatch. Follow on Twitter for real-time updates.