Mill Valley underclassmen steal show on senior night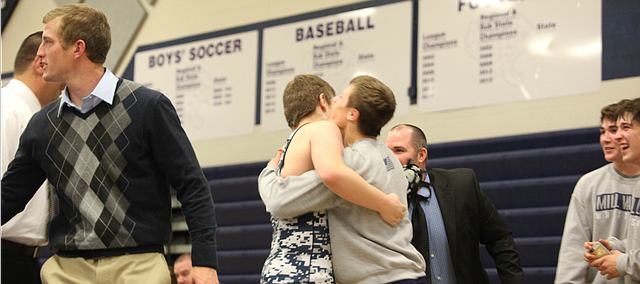 Tuesday night was supposed to be about the seniors, and it was until the final dual against Shawnee Heights.
The Mill Valley wrestling team defeated Seaman, 36-35, to begin the night before taking a 90-minute break to serve parents and donors dinner while Seaman and Shawnee Heights wrestled.
Ryan Anderson, Peyton Bendure, Seth Burnett and Grant Roach all walked out of the inflatable Jaguar in the northeast corner of the gym with their parents, before the start of the final dual of the night.
Once the recognition was over, the underclassmen stole the spotlight.
Coach Travis Keal has seen blood plenty of times, but has never seen what happened to Jarrett Bendure in period one of his match against Chase Reynolds.
"Yes, he puked on me," Bendure said of his opponent. "I shot in and I guess I hit him in the stomach too hard, and he just threw up."
There was a stoppage while the mat and Bendure's arm were cleaned and disinfected.
"It kind of shook me," Bendure said. "I've been in that situation before, not that exact situation, but I've had a couple incidents. It shook me up a little bit, but then I got back into it second period."
Bendure, who wrestled at 132 pounds against Seaman's Colby Anderson, moved up to 138 pounds against Reynolds because Keal had confidence Bendure would win. And he did, defeating Anderson, 15-3, and Reynolds, 11-7.
Come regionals on Feb. 20, Bendure will remain at 132 pounds.
"Sometimes in duals you bump people up," Keal said. "That gave us the best chance to win. I knew Grant could get in there and take care of his business (at 132) and bump Jarrett up. We talked about it this morning. It's not like I did it to him when we got here."
Against Heights, the No. 10 team in Class 5A, Dylan Gowin, Bryson Markovich, Conner Ward, Roach and Burnett all recorded wins by fall for the No. 5 Jaguars.
But the biggest win by fall might have been the last of the night by freshman Isaiah Santilli.
After he pinned Walker Atkinson, the entire Jaguars bench area started jumping around and cheering.
"It was my biggest (win) by far," Santilli said. "It was my first varsity pin."
He has won a number of matches by fall this season, but all came at the junior varsity level.
Keal and his assistant were yelling at Santilli to stop over Atkinson to put him on his back, but Santilli couldn't hear what they were saying. He just knew what to do.
"If you're a varsity guy, people expect you to win," Keal said of Santilli. "You wear that singlet, you're expected to represent."
At 220 pounds, he gives the Jaguars another body to score points at Kaw Valley League on Feb. 13, regionals and potentially state.
Keal is hopeful Santilli can qualify for state. He likes that Santilli is a hard worker and a fighter. He has some things to clean up technical-wise, but that's expected being only a freshman, Keal said.

"As long as he has that fight, that will make him better; make us better," Keal said.
The Jaguars return to the mat Thursday against KVL-foe Basehor-Linwood. Keal said Mill Valley started to turn the corner against Chanute this past weekend, continued it on senior night and hopes to keep it going for the next three weeks.
"We started wrestling like Mill Valley's capable of and used to," Keal said. "That attitude of scoring points and scoring points and scoring points, and then all of a sudden you put him on his back and pin him. That's what we have to do to be successful the rest of the year."
More like this story