Lenexa Police pursuit ends with crash in Shawnee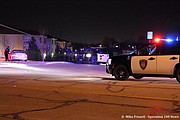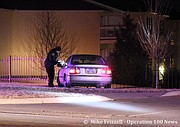 Lenexa Police were involved in a brief car chase with a Honda Accord early Friday morning.
The chase started at about 2:45 a.m. in the 7400 block of Lackman Road.
Master Police Officer Dan Friesen of the Lenexa Police Department said an officer attempted to stop the vehicle for a traffic violation, but driver didn't stop.
Radio traffic indicated that the suspect led the Lenexa officer into Shawnee on northbound Lackman and then down a dead-end street, near 71st Street and Constance Street, before turning around and taking off northbound again on Lackman.
The Lenexa officer continued to pursue the vehicle into the 6800 block of Lackman Road where the car crashed into a fence. Radio traffic indicated that a man ran from the car and was last seen running into an apartment in the Prairie Lakes Apartments.
Shawnee officers were dispatched to assist with a search of the area, but cleared the scene shortly after arriving.
Friesen said the driver was not apprehended but police have identified him and traffic charges are pending.
A tow truck removed the crashed Honda Accord from the scene around 3:45 a.m.
---
Operation 100 News provides overnight news coverage for the Shawnee Dispatch. Follow on Twitter for real-time updates.
More like this story