The future of Nieman Road: Businesses, residents weigh in on possible major changes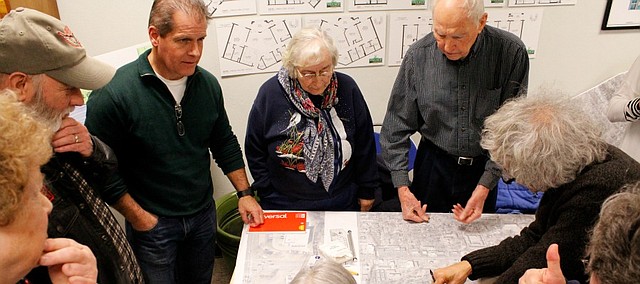 Business owners on Nieman Road and neighboring residents have strong opinions about the future of the main downtown Shawnee cross street and the potential for it to turn into a three-lane road.
Since May 2013, Shawnee has been studying Nieman Road and putting together a Nieman Road Corridor Project that could, among other things, reduce traffic lanes to three and link the Turkey Creek Trail to downtown Shawnee amenities such as Splash Cove. A team of city planners, architects, economists, engineers and transportation planners are looking at the section of the road between Shawnee Mission Parkway and 55th Street.
The objectives of the redesign are to transform the area into a walkable space and to enhance the overall economic value of business and properties in the area. The project also would reintroduce natural features such as trees and vegetation along the corridor while emphasizing the historical and cultural significance of the area as the gateway to downtown Shawnee from the north and south.
Ideas to accomplish those goals so far include adding a 10-foot multi-use path on one side of the road for pedestrians and bicyclists, and small natural features such as pocket parks and historical markers.
But not everyone in the neighborhood is on board with the proposed changes.
Nick Burke owns the Shawnee Plaza on the historic block of Nieman between 59th Street and 59th Terrace. He is concerned the city's plan to invest money in the corridor could be better spent improving the neighborhood roads to the east and west of Nieman.
"That is what will raise the property values much more than doing Nieman Road," Burke said. "That's what'll improve the area."
Other area residents expressed similar concerns, saying people already drive down the neighborhood roads to avoid the traffic lights on Nieman Road, Johnson Drive and Shawnee Mission Parkway. Burke worries that reducing the lanes on Nieman would only increase traffic in the old neighborhoods that have no curbs, gutters or sidewalks.
"You're going to see people speeding through those neighborhoods," Burke said.
The city hired BHC Rhodes, a civil engineering firm, to create a construction plan for reallocating Nieman Road to three lanes — a north and south lane split by a shared turn lane. Randall Gorton, project manager for BHC Rhodes, said the firm will present a report on its recommendations to the City Council this spring. The council will then decide whether it wants to pursue reallocating the road as soon as this summer or follow a different strategy.
The work the team is preparing also gives the city a place to start from to begin final engineering should the city wish to invest in a permanent road improvement for Nieman.
The Kansas Department of Transportation has funded a majority of the preliminary work, providing about $150,000, with a city match of about $50,000. The city of Shawnee has also budgeted future funds for the project.
Since December, Gorton and Martin Shukert, a principal with RDG Planning and Design, have been working out of an office in the Downtown Coffee House on Johnson Drive and have welcomed public input for their construction plan. On Wednesday, about 25 people met with project engineers to share their concerns and ideas, Burke among them.
"We are looking at what we have space to do here and what fits," Gorton said. "Then it's up to the city as to how to prioritize the projects."
Gorton said the firm will recommend that the city, among other things, tests Nieman as a three-lane road first simply by restriping it.
"The nice thing about that is it's just paint, we're not tearing up or building a new road," Gorton explained.
Gorton said restriping will allow the city and residents to see what the road and traffic will look like in the future. If it doesn't work, Gorton said, the city can decide to reallocate the lanes back to four.
Right now, about 10,000 cars drive on Nieman Road each day. Gorton said a lane reduction would actually help traffic at the Johnson Drive intersection and along the whole corridor.
He said retiming the light at Johnson Drive would reduce wait times on Nieman Road and Johnson Drive and increase the number of cars that could pass through the intersection per minute.
Shukert said many residents have expressed doubts about how traffic control would work.
"There are a lot of skeptics that need to be shown it will work, but open-minded skepticism is not a bad thing," Shukert said. "It's hard to picture Nieman Road as something different than what it is now."
Gorton and Shukart have worked on several projects in the Kansas City area and around the Midwest where roads with similar traffic counts have benefited from reducing lanes, they said.
John Whitford, who works at Critter Control at 56th and Nieman, said he would be in favor of three lanes because it is hard to make left turns on the road as it is now.
"It can be tough," Whitford said. "You've got two lanes of traffic you have to cross."
City Council members Dan Pflumm and Eric Jenkins spoke with concerned residents at Wednesday's meeting. Pflumm, who owns the building on the southwest corner of Johnson Drive and Nieman Road, said he would like to see the power lines be put underground and a wide multi-use path installed.
"We want to get people to come downtown," Pflumm said. "We want them to walk and ride and enjoy it."
The corridor reallocation effort is one of three larger projects in the overall redevelopment of Nieman Road. The city is also planning the connection of Turkey Creek Trail to downtown Shawnee. There will be an opportunity for more public input during a workshop at 6:30 p.m. Feb. 16 at Fellowship Hall in the basement of the Shawnee United Methodist Church, 10700 Johnson Drive. The third project is the Nieman Corridor South Stormwater Project, which seeks to address stormwater concerns near Shawnee Mission Parkway.