Shawnee teen seeks to fulfill dream, attend Naval Academy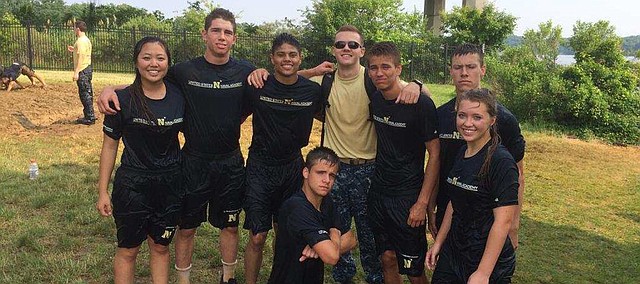 Though she is not yet a high school graduate, Madison Wheat has nearly too many accomplishments to fit on one page of her resume.
The Shawnee resident and senior at St. Thomas Aquinas has taken honors-level courses of just about every class, played four different sports, took part in nine school clubs or academic groups, traveled to more than 20 different countries and was a teen finalist in the Miss Kansas Pageant in 2014. It seems she could have had her pick of professions, but since she was about 13, she's had one goal in mind: attending the U.S. Naval Academy in Annapolis, Md.
Shawnee residents nominated for military academies
U.S. Air Force Academy, Colorado Springs, Colo. — Jessica Broll*, Kaitlyn Moore
U.S. Military Academy, West Point, N.Y. — Ryan Anderson, Brenden Shutt*
U.S. Merchant Marine Academy, Kings Point, N.Y. — Stephen Tujague*
U.S. Naval Academy, Annapolis, M.D. — Madison Wheat*
Those listed received at least one nomination from Senators Jerry Moran and Pat Roberts and/or U.S. Rep. Kevin Yoder; those with asterisks received nominations from all three.
"I really love challenges, and I absolutely love the camaraderie; I think that was one of the biggest things that drew me toward it," Wheat said. "And I love the patriotism that they have for our country — just seeing that made me want to serve my country."
With official nominations from both of Kansas' U.S. senators and from U.S. Rep. Kevin Yoder, who also nominated her for the Air Force Academy, Wheat is just a few months away from learning whether her dream will become a reality.
Wheat first became enamored with the idea of serving her country during the summer after sixth grade at St. Joseph Catholic School. Her father was working in Annapolis, Md., and her family rented a house there for the summer.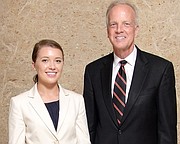 "I had never heard of the Naval Academy before, but my parents decided to sign me up for a basketball camp there," Wheat explained. "I left there, and from that moment, I was like, 'This is where I'm going.' So since seventh grade, I have been absolutely dedicated to the service academies, and it's been my passion."
Since then she has spent her time doing as much as she can to take part in military service groups. She's gone back to Annapolis for volleyball, basketball and track camps over several years, and her volunteer work has often had a military connection — she has organized care packages to Navy SEALS serving in Afghanistan and volunteered at the KC Air Show Blue Angels tent.
She has been a member of Sea Cadets, attending Marine Corp Basic Training at Camp Pendleton, where she received an Honor Cadet award.
She has also been back to Annapolis to attend a special candidate invite weekend in February 2015, a summer seminar in June and a STEM camp.
Wheat went through an extensive process to receive her nominations from the senators and congressman. For Sen. Jerry Moran, she had to interview before several panels of interviewers; for Sen. Pat Roberts and Yoder, she did 30-minute interviews before larger panels.
While her goal has always been to attend the Naval Academy, her interviews with Yoder yielded an unexpected result.
"Originally I received the one from the Naval Academy, and the Air Force Academy called and said, 'Get her an Air Force nomination,'" she said.
This all took place in September through November, so Wheat balanced the process with school work, including six college-level courses, debate and French club, cross country and Sea Cadets.
"I'd literally be up sometimes until 3 a.m. and then have to get back up again at 5 or 6," she said. "It's all about managing your time and prioritizing what needs to get done first."
She said her physics courses have inspired her ultimate goal: to major in nuclear engineering with a Russian minor at the Naval Academy.
"Beyond college, where I see that going is a nuclear propulsion job, maybe working on the nuclear submarines, nuclear air craft carriers, their nuclear reactors," Wheat said.
But only four people are selected to attend the Naval Academy, so should she end up with the Air Force, she said she might major in physics or aeronautical engineering.
"And if I went to the Air Force, I'd almost definitely want to fly," she said.
More like this story