The message of teamwork and collaboration that helped Mayor Michelle Distler get elected was also the focus of her first State of the City address Wednesday.
While she spoke about various awards and recognitions the city received in 2015 and outlined plans to utilize the city's new pavement tax to improve Shawnee's roads in 2016, Distler made it clear that Shawnee is at its best when its people come together.
"We are all citizens of this great community," Distler said. "And we all have a stake in its success."
Distler said that while going door-to-door during her campaign, she kept hearing two things: People wanted government to be more accessible, and they wanted the city to focus on priorities that mattered most to them.
"Since taking office in April, my priority has been to never lose sight of that," Distler said.
Distler not only outlined how the city has made efforts to engage with its citizens, but how she has. She has spent more than 650 hours, she said, since being elected meeting with residents, businesses, church groups, networking groups and homeowners' associations. Distler could also be seen over the past year volunteering at events such as Old Shawnee Days.
She also instituted Third Thursday's with the Mayor, where citizens can sit down with her and city staff to discuss ideas and concerns about the city. Those meetings have been held for several months, and there is typically a crowd of more than 20 people at each meeting.
Distler also announced two new programs: the Quarterly Q&A, where citizens will be able to ask her questions about city news and projects in a community gathering four times per year, and a new NextDoor.com page through which the city will be able to communicate with specific neighborhoods.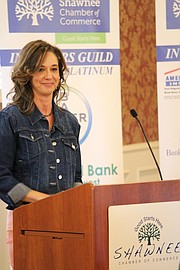 "Just as I stated during my campaign, because it is what I truly believe, it's not about thinking alike, it's about thinking together," Distler said.
To better connect with even more people, the city launched its Shawnee Connect mobile application in August. The application allows citizens to report issues such as potholes and code violations online and get updates from the city until the problem is fixed.
She thanked the Street Improvement Task Force, made up of 12 Shawnee residents, which created a plan to allocate one-third of the new pavement sales tax designated for road improvements.
"By choosing to work directly with our citizens, we were able to focus on putting together the best plan for our community," Distler said.
The overall street improvement plan, Distler proudly said, will repair 48 lane-miles of road in 2016, the most the city has ever done in a single year.
John Smith was a member of the Street Improvement Task Force and attended the State of the City address this year because it was open to the public for the first time. He said he wanted to hear Distler's thoughts on how the city is doing and wanted to learn more about what the city is doing to improve streets around town with the new sales tax.
"I'm here really to learn more about the city and see what kind of state it's in," he said.
Smith was one of several people from the general public who attended this year's address. Nancy Martin, who worked with Distler to make the event open to the public, said she wished more Shawnee residents took advantage of the things Distler and the city are doing to engage them.
"I'm disappointed more people don't get involved in local government because it is really important," Martin said.
Hundreds of business owners and Shawnee leaders attended the Shawnee Chamber of Commerce's annual luncheon for the State of the City address. Distler thanked the business leaders of the community for also working with the city to improve its overall economic progress.
Distler said the city's economy sits on a "rock-solid financial foundation" thanks to Shawnee's fiscal discipline. She said the city's Double-A Bond Rating and its most recent strong annual audit meant Shawnee will be able to continue to compete and improve in today's economy.
"If the economy continues to improve, our fiscal discipline will allow us to address some critical needs and, hopefully, take on a few major projects that have been deferred," Distler told the crowd.
Those projects, which the city worked to prioritize over the past year, included reconstruction of Flint Street and Monticello Road, adding another fire station to address longer response times in northwest Shawnee and adding traffic signals to the intersection at Interstate 435 and Johnson Drive.
Distler vaguely referenced some economic challenges the city is dealing with coming from the state Legislature. She said laws continue to be passed that inhibit the ability of Shawnee to properly fund its own operations. Specifically, she said, the bill passed last year that limits how the city can use growth in assessed value as well as ongoing discussions about eliminating the city's sales tax exempt status could negatively impact the city.
"I believe strongly that the decisions about what kind of community we want to be and how it should be funded should remain in the hands of our local governments," Distler said.
She described several ways, including through the Shawnee Entrepreneurial and Economic Development (SEED) forgivable loan program, how the city is taking control of its own future. She highlighted Risk IQ as one example in that the global technology firm projected to bring 25 new jobs to Shawnee over the next three years has already hired 24 new employees in just nine months.
Distler took time to thank both the Shawnee Police Department and Shawnee Fire Department for their continued efforts to protect and serve the community.
She announced the fire department is working to join the top one percent of departments across the country by achieving accreditation by 2017.
She also thanked firefighter Doug Simms for helping the city be recognized with the Secretary of Defense Employer Support Freedom Award this past summer. The award was given to just 15 employers across the country who support veterans and active military members.
"This was one of my proudest moments yet as the mayor of our city," Distler said. "And it wasn't because we won an award. It was because this award represents so much of what is great about Shawnee, and that is we are a true community (that) believes in the value of taking care of one another."
Volunteerism and community involvement continued to ring out throughout her address as Distler thanked all of the Shawnee residents who gave nearly 6,000 hours of their time to volunteer work. That community spirit, she said, will only help her and the city reach its ultimate goals.
"By focusing our work on the greatest needs of our community," Distler said, "by working together, and by always committing to make our citizens the priority, we will be able to accomplish the goals we have set."