SM

North wins boys bowling district title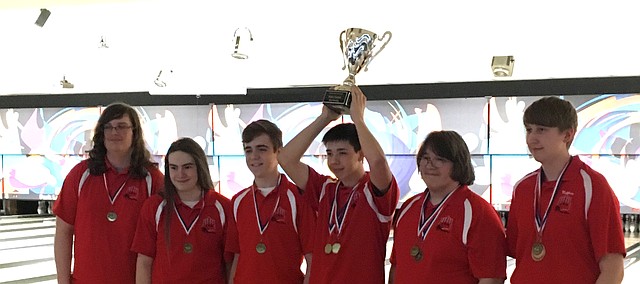 Shawnee Mission North bowling coach Deb Leonard joined her boys team in doing a hip-hop dance move very similar to her first name following the Shawnee Mission District Championships Wednesday at Park Lanes.
Leonard was coaxed by the Indians boys squad to do the dab – a dance move where someone lifts their hands to one side and looks down in the other direction – after they had just claimed the district title over SM Northwest by 187 pins.
"I think they came together as a group," Leonard said. "I think we probably used all of their scores. I think everybody contributed, so I think they did a great job."
Travis Wunderlin highlighted the team title with an individual first-place finish and career-best 667 three-game series.
"It feels unbelievably good because I did it in a place where I needed to do it," Wunderlin said. "It's an SMSD tournament, so basically all of the Shawnee Mission schools come in and play and come to Park Lanes and bowl. I did it during that, so that feels great."
Wunderlin started a stretch of six straight strikes on the fifth frame of the first game – setting the tone for the rest of the day with a score of 242.
"You have no idea how I felt after I got the fourth one," Wunderlin said. "Then it was the fifth one, and then the sixth one. I kind of put too much pressure on myself after the sixth one, but it was still a high game for me."
It wasn't his high game for long, though. Wunderlin dropped off in the second game with a 178, but he was still in good position as a few others near the top of the leaderboard tumbled even more. The beginning of the third game marked another hot streak for Wunderlin, as he rolled strikes on six of the first seven frames. Wunderlin followed with two spares before throwing strikes on his first two balls of the 10th frame.
Wunderlin had plenty of company from his SM North teammates in the top five. Matthew Webb edged out SM Northwest's Colton Kreie by a pin for third place with a 583 series, and Peter Hubenett rounded out the top five with a 571. Webb made a charge up the leaderboard by throwing five consecutive strikes from frame No. 7 to the second ball of No. 10 in the third game.
"He's always very calm, and he comes through at the end," Leonard said. "He's just really steady, and really consistent. He did a really nice job at the end when he needed to."
Travis Morrison and Kreie completed the top five with respective second and fourth-place finishes for SM Northwest. Morrison rallied in the third just like Webb – tossing five straight strikes open the third game on his way to a score of 227, and a 594 series.
"I didn't get first, which is kind of disappointing, but I think I did pretty good," Morrison said. "I rolled the ball overall pretty well."
Kreie led the way after Game 1 with a score of 253 – which included strikes on the first six frames.
"It's a lot of fun to see someone start out with a perfect game. People always say, 'Don't talk about it. Don't jinx it.'" SM Northwest coach Billy Dent said. "All I try and do is go talk about other things other than bowling. But you can tell he's really excited, and it doesn't just happen by accident. It's something that he's really worked on."
Doleshal places second to pace SMNW girls
The girls and boys standings mirrored each other when it came down to how the Cougars faired. Just like the boys, the SM Northwest girls took second overall with the help of an individual runner-up and fourth-place finisher.
Katy Doleshal and Alaina Burris finished second and fourth, respectively, despite being separated by just four pins.
"She's a great friend. We have tough love, so she pushes me with constructive criticism," Doleshal said. "We're there for each other all the time, so it's great."
Doleshal and Burris put up series scores of 464 and 460. Although their scores were below their averages, Dent also enjoys watching the healthy competition between his top two bowlers.
"They braid each other's hair the same. They get rides to practice," Dent said. "They walk and talk alike. It's funny. They love getting the best of one another."
Right behind Burris in fifth place was SM North's Sophia Burch with a 438 series. The SM North freshman guided the Indians to a third-place team finish.
"Our team definitely has a lot of potential," Burch said. "We could have done a lot better. I guess today was just one of those off days."
Leonard has been pleased with Burch's progress this season, especially since she is also busy with another winter sport.
"She also plays basketball, so she's a dual-sport person. She hasn't made a practice yet this year," Leonard said with a laugh. "She's been practicing on her own, but it's fantastic. It gives us a really bright future."
Shawnee Mission West won the girls team title behind a first-place individual finish from Brittany Weber.
Boys team scores – 1. Shawnee Mission North, 2338; 2. Shawnee Mission Northwest, 2151; 3. Shawnee Mission East, 2148; 4. Shawnee Mission South, 1935; 5. Shawnee Mission West, 1931.
SM North results
Travis Wunderlin 242-178-247 – 667, 3. Matthew Webb 172-188-223 – 583, 5. Peter Hubenett 243-140-188 – 571, 11. Daniel Johnson 164-141-196 – 501, 22. Jack DeNebeim 148-156-146 – 450, 29. Caleb Brooks 131-117-133 – 381.
SM Northwest results
Travis Morrison 196-171-227 – 594, 4. Colton Kreie 253-161-168 – 582, 15. Garrett Bolin 150-141-180 – 471, 16. Austin Anderson 146-176-145 – 467, 17. Colton Kinsella 147-153-163 – 463, 18. Liam Mays 142-159-160 – 461.
Girls team scores – 1. Shawnee Mission West, 1848; 2. Shawnee Mission Northwest, 1765; 3. Shawnee Mission North, 1507; 4. Shawnee Mission South, 1387; 5. Shawnee Mission East, 1331.
SM North results
Sophia Burch 130-171-137 – 438, 12. Crystal Call 130-130-104 – 364, 13. Mia Watkins 108-100-144 – 352, 19. Madeline Waldack 106-113-116 – 335, 20. Julia Hernandez 106-114-108 – 328, 27. Jessica Nivens 96-105-99 – 300.
SM Northwest results
Katy Doleshal 174-141-149 – 464, 4. Alaina Burris 146-170-144 – 460, 7. Emilia Battles 144-135-136 – 415, 8. Alpha Hill-Spearman 158-104-141 – 403, 10. Madalyn Fagan 125-127-128 – 380, 17. Hadley Sayers 135-98-105 – 338.