SMNW

alumnus Lilja presents alma mater with Super Bowl 50 golden football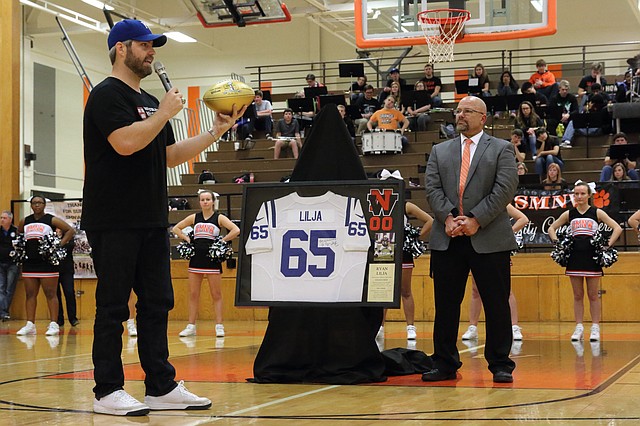 Shawnee Mission Northwest alumnus and former NFL offensive lineman Ryan Lilja returned to his alma mater Tuesday for the Cougars boys basketball game against Lawrence High to give the school a special gift, and share his story with the student body.
Lilja – who spent 10 years in the NFL with the Indianapolis Colts, Kansas City Chiefs and Denver Broncos – presented a golden football to SM Northwest at halftime of the hoops matchup as part of the NFL's Super Bowl 50 celebration. The NFL has recognized high schools nationwide that have developed players and coaches that have participated in the first 49 Super Bowls by giving them golden footballs, and Tuesday was Lilja's opportunity to do just that at SM Northwest.
"There's a lot of people probably more qualified to give you guys advice than someone who lived a 9-year-old's fantasy birthday party on television, essentially playing a game for 10 years," the 2000 SM Northwest alumnus said. "I'm glad to be back here you guys."
Lilja played in two Super Bowls with the Colts – winning it in the 2006 season against the Chicago Bears, 29-17, and losing to the New Orleans Saints, 31-17, three years later. He also signed an authentic Ryan Lilja No. 65 Indianapolis Colts Super Bowl jersey that is framed and be on display at SM Northwest.
The versatile lineman played both center and guard in the NFL, protecting the likes of two-time Super Bowl champion quarterback Peyton Manning – who just won his second title Sunday with the Denver Broncos over the Carolina Panthers. When thinking of role models, though, Lilja took time to thank his mother and said that she is the type of person that people should look up to.
"All I can tell you is this: my mother, Linda Lilja, she's my hero. She's a pretty neat lady. Her husband, my dad, passed away when he was 43," the NFL veteran said. "She had a 16, 14 and 9-year-old boys, knuckleheads, and I was smack right in the middle of them and she was in nursing school and never ever complained."
After Lilja graduated from SM Northwest, he launched his college career at Coffeyville Community College before transferring to Kansas State University. Lilja went on to be an all-Big 12 second team selection in his senior season at K-State, but SM Northwest athletic director Angelo Giacalone noted that the Cougar and Wildcat alumnus had another important honor that not many people realize.
"At Kansas State University where Ryan Lilja graduated, he was an academic All-American," Giacalone said.
Lilja was an NJCAA Academic Award honoree at Coffeyville as well before his days at KSU.
The former lineman paved the way for numerous running backs to venture toward the end zone during his high school, college and professional career to help his team win games, but that is not what he'll remember most about playing football.
Lilja referenced a message from legendary UCLA men's basketball coach John Wooden, and said that while golden footballs, Super Bowl rings and winning games are nice, they are not the most important things that you can get out of athletics.
"It's always about the process. That to me is what I want you guys to take away from this," Lilja said. "When somebody asked me how many games we won when I played here, I don't remember because it wasn't about that. It was about my coaches, it was about my teammates, it was about the process."
After giving Giacalone the golden football, Lilja had one final thought to relay to the SM Northwest students. Lilja was not the only guest recognized at the girls and boys basketball doubleheader, Tuesday. Gabe Puthoff and Matthew Martin – two children who have pediatric cancer – were recognized after the boys starting lineups were announced, as they have been adopted by SM Northwest as All-Stars in the schools partnership with the Pinky Swear Foundation. Lilja took notice of Northwest's effort to reach out to the two boys and raise money to cover non-medical expenses for families affected by pediatric cancer in the Kansas City area.
"One more thing. Listen, what makes me most proud of you guys is the money you're raising for Pinky Swear and for Take Downs for Down Syndrome," Lilja said. "If you have the ability to be the service to others, you have the responsibility to. You guys are doing it, and that makes me prouder than if you guys won state championships in anything. Thank you, guys. Go Cougars."