St. James duo named players of the year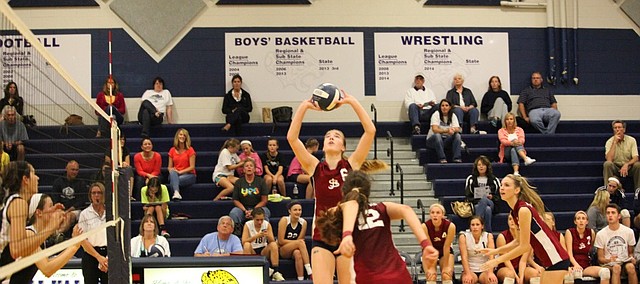 Nancy Dorsey was walking in the halls one day when she overheard seniors Audriana Fitzmorris and Jenna Gray talking.
'Hey, Jenna, congrats," Dorsey recalls Fitzmorris telling Gray after Gray was named Gatorade's Kansas Volleyball Player of the Year.
"Audriana didn't win that award and she congratulated Jenna, her friend, who did win the award," Dorsey, who has coached St. James to seven state titles in the past eight years. The first four were in Class 4A, the most recently three in Class 5A.
There were awards that Fitzmorris won that Gray didn't. Volleyball Magazine and USA TODAY High School Sports named Fitzmorris National Player of the Year.
If it were up to Dorsey, both would share every award they she nominated them for, and that happened when John Tawa, who runs PrepVolleyball.com named them National (Senior) Players of the Year.
"I think what's most profound about these two young women is that they were on the same team the last four years and they're going to continue to be on the same team moving forward and they're both the kindest, most humble souls you could ever come across," Dorsey said. "As a coach, what I liked about what he wrote was that it spoke to that. They were really truly a duo. I wouldn't, nor couldn't, pick one over the other. While they both have their individual strengths, they were both so paramount to our success."
Gray said it's a big deal to share the award with Fitzmorris. They've spent the past four years playing club and high school volleyball together and they'll continue to play together for the next four years at Stanford.
"It's just awards, it all evens out," Gray said. "It meant a lot getting this final award together. We were a big duo this year. The past four years we've been a duo. It's nice to go out together with this honor."
Dorsey isn't a fan of awards because she thinks awards can a lot of times divide and create problems.
"It would be so easy for one to not like the other or for them to be put up against the other because they're going after the same awards," Dorsey said. "Neither one of them engaged in that at all. Girls can be tough and they were never those teenage girls that fought one another. They supported each other and congratulated each other."
Stanford coach John Dunning, who hasn't won a national title since 2004, isn't getting two of the best players in the country, but two young women with high character.
"They're good representatives of who they are as people, of our school, of their families," Dorsey said. "They make us proud in so many ways than winning an award."
Gray and Fitzmorris always want the best for each other and are happy when the other succeeds. There is never jealousy.
Dorsey said they're so easy to like because they're both "so nice and sweet and kind and fun and hardworking." She said to be the best player on a good team, you have to be the hardest worker and both of them were that all the time.
"We always challenge each other to be better," Fitzmorris said. "We expect great things out of each other. It's a great relationship. It's a nice relationship on the court and off the court. I'm excited when she does well and she's always excited when I do well."
The two didn't choose Stanford only because it's a top-tier volleyball program. They both liked the excellence in academics.
Gray also said the coaches are great, her new teammates are awesome and couldn't imagine being anywhere else. It's a plus that the campus is beautiful.
Fitzmorris wanted to find the right fit for her.
"I loved how I have family on the west coast," Fitzmorris said. "I'm really excited for what I can do at Stanford and how it can propel me in the future."
More like this story