Man arrested after crashing into utility pole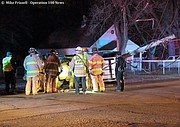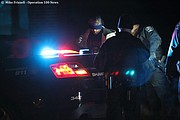 Shawnee Police arrested a man at the scene of an early morning crash that knocked out power to about 20 homes.
A neighbor called police around 1 a.m. Thursday to report a Nissan Pathfinder had rolled onto its side after crashing into a utility pole near the intersection of 60th Street and Ballentine. The neighbor reported that one person was walking around the vehicle and there was possibly someone else still inside.
Police arrived to find the SUV tangled in power lines and the driver still inside.
As soon as Kansas City Power & Light was able to confirm that the downed lines were no longer electrified, the fire department cut through and removed the SUV's windshield and helped the driver walk out.
Shawnee Police Sergeant Matt Seichepine tells Operation 100 News that both people from the vehicle were evaluated by Johnson County Med-Act and were not injured.
"We're taking the driver on suspicion of DUI," Sgt. Seichepine said.
According to KCP&L's outage website, 21 customers were without power following the crash. Power was restored to all customers before 4 a.m.
---
Operation 100 News provides overnight news coverage for the Shawnee Dispatch. Follow on Twitter for real-time updates.
More like this story