Police chase driver into
KCK

following suspicious activity at Shawnee Walmart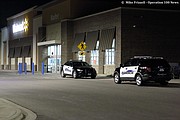 Shawnee Police chased a vehicle into Kansas City, Kansas after the driver allegedly swerved at an officer in a Walmart parking lot around 12:30 Thursday morning.
According to radio traffic, the officer was flagged down by a person in the parking lot of the Walmart at 5701 Silverheel Street. The person told the officer about a man who was acting suspicious. As the officer's patrol vehicle approached, the suspect swerved in the direction of the officer's vehicle.
The officer told dispatchers that the driver of a gold or tan Chevrolet Blazer drove over several curbs and then accelerated away on northbound Kansas Highway 7 from Johnson Drive. The Blazer had a Kansas license plate on it, which is registered to an address in western Shawnee.
Officers reported speeds of 95mph on K-7. The suspect vehicle exited to eastbound Kansas Highway 32 in Bonner Springs and then turned north on South 121st Street, passing the Theodore Naish Scout Reservation.
An officer from a Wyandotte County agency joined the pursuit as the suspect vehicle led officers over Interstate 70 on North 118th Street and continued north to Parallel Parkway. The suspect turned east on Parallel Parkway, passing the Village West area of Kansas City, Kansas.
Radio traffic from the pursuing Shawnee officer indicated speeds of 100mph as the chase passed North 98th Street on Parallel Parkway.
Pursuing officers lost sight of the suspect's SUV in the area of North 78th Street and Parallel Parkway at 12:43 a.m.
Shawnee's pursuit covered 13 and a half miles in about 12 minutes.
Just before 1 a.m. the Missouri State Highway Patrol was involved in a brief pursuit with the same Chevrolet Blazer on eastbound Parvin Road near Interstate 29/35. Radio traffic indicated that troopers disregarded their pursuit after a lieutenant told them to stop following the vehicle "due to dangerous speeds."
Around the same time that Missouri State Highway Patrol Troopers were trying to stop the Blazer, Shawnee officers were dispatched to attempt to contact the owner of the vehicle at an address in western Shawnee. Due to encryption, it's unclear if officers were able to contact anyone at the address.
Check back with this report for updates.
---
Operation 100 News provides overnight news coverage for the Shawnee Dispatch. Follow on Twitter for real-time updates.
More like this story