Golf, other activities bring technology, academics to Bluejacket-Flint Elementary gymnasium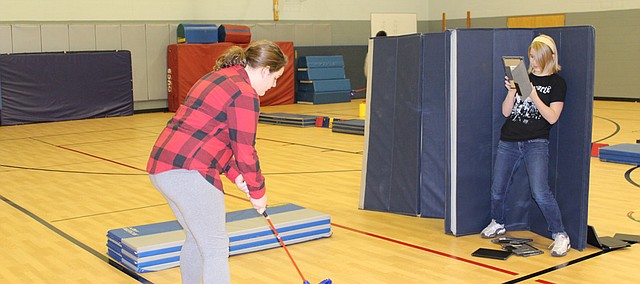 When you think about students using technology in schools, physical education class might be the last place that comes to mind.
But this week, students have been bringing their iPads to the gym at Bluejacket-Flint Elementary School for classes that incorporate math and technology and offer exposure to a sport students might not otherwise try until later in life, if at all.
Bluejacket-Flint students this month began Starting New at Golf, or SNAG, a program that aims to make learning golf easier. Elementary and middle school students throughout the Shawnee Mission School District are taking part in the program in P.E. thanks to a grant from the Midwest PGA Foundation.
Dirk Kinney, the school's physical education teacher, said it's one example of how gym class is evolving from the days of kickball and Presidential Fitness Tests.
With SNAG, students learn the proper golf club grips and stance for putting, and older students even learn how to chip and drive over the course of three weeks. Basic math skills are incorporated because as students putt, they keep track of their scores.
"The kids have had a blast with it," Kinney said. "I've been very happy, very shocked."
The program makes learning golf more child-friendly because the clubs are made of plastic and the balls are made of rubber. Kinney said it's a great way to expose children to a sport that isn't always accessible.
"Some of these kids will never swing a golf club once they get out of here," he said. "It's something that the kids have never had (before), because regular clubs are so dangerous."
Other district classes may not be incorporating iPads into SNAG lessons, however. Kinney said he had the idea to have students use their iPads to film each other while they golf, allowing them to see what they are doing right or wrong.
"In order to be able to drive, they have to show me on their iPads that they can chip," he said. "When I coached at the university level I had great success with it because the kids didn't always understand what I was saying verbally. The district wants us to use them where we see fit."
SNAG isn't the only time students have brought their iPads to P.E. for Kinney — they used them in a pacer running test and will use them again in basketball to film themselves taking shots at the basket.
Kinney said this is just one way that physical education classes have gone beyond athletics to include more academic skills. Other such activities at Bluejacket-Flint have included students playing "Cross the Ocean," a game that helps students learn about team building and use problem-solving skills.
Using two mats as boats, they are not allowed to touch the "water" — or rather, the floor — but have to find a way to stay on their boats and travel across the gym and back.
To see more about what students are doing in gym these days on Twitter, Kinney regularly Tweets about his class activities at @BJF512PE.
Similarly, in the De Soto School District, Riverview Elementary's physical education teacher, Kyndel Reeves, tweets about activities that include team building and academics in her class at @RiverviewPE.