Face to Face: Owners of new Smoothie Shop, Kevin Hourihan and Chuck Abele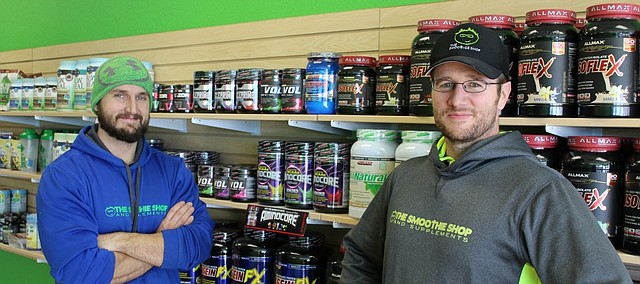 Names: Kevin Hourihan and Chuck Abele
Born: Hourihan was born in Tarrytown, N.Y., and Abele was born in Grand Island, Neb.
Family: Hourihan is married to Amy and they have four children. Abele is married to Melissa and they have two children.
Occupations: Hourihan owns The Smoothie Shop and Abele is his business partner
Dream jobs as children: Abele said he always wanted to be a professional football player or a zookeeper. Hourihan said he wanted to be a professional basketball player — a specific basketball player.
"I wanted to be Larry Bird," Hourihan said.
Digging Deeper: Hourihan and Abele opened the fourth Smoothie Shop, and the first in Kansas, last week in the Mill Creek Shopping Center, 13220 W. 62nd Terrace. The new business is just two doors down from the Planet Fitness that opened earlier this year.
Hourihan said he formed a relationship with the local Planet Fitness franchise owner and has been seeking locations close to the exercise centers around Kansas City. Hourihan opened the first Smoothie Shop in Lee's Summit, Mo., in 2010 and has since opened locations in Belton and Blue Springs, Mo.
Abele was a manager at the gym in Lee's Summit next to the first Smoothie Shop location, and that's where he met Hourihan. After tasting the smoothies and protein shakes Hourihan was making, he jumped on board with his new friend.
"I believed in his product and what he was doing," Abele said.
Hourihan had worked for years around the country in different health-minded retailers such as GNC and Vitamin Shop. But he wanted to start his own business and decided to come back to Kansas City where he had family to do so.
The concept of his business is to offer fresh smoothies infused with whey protein to be used as meal replacements or supplements. The concept almost got Hourihan on the popular TV show Shark Tank. The Smoothie Shop smoothies all come with 20 grams of protein in them as well as a long list of available fresh fruits and purees. The best sellers, Hourihan said, are the Peanut Butter Cup Blast, made with all-natural peanut butter, and the Strawberry Banana smoothies. Hourihan is also working on establishing a specialty coffee line in his locations this upcoming year.
The Smoothie Shop sells four categories of supplements — general health, preworkout, intro workout and post workout. But, Hourihan said, he has worked to make decisions simple for his customers.
"We like to educate them about supplements and not overwhelm them," Hourihan said.
Hourihan hopes to grow the business into a franchise and is excited to be opening his first Kansas location in Shawnee.
"This is a great cohesive fit, especially with Planet Fitness next door," Hourihan said.