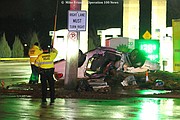 An Olathe woman was critically injured in a single car crash at 63rd Street and Pflumm Road early Tuesday morning.
Shawnee Police, Fire, and Johnson County Med-Act were called to the intersection around 12:50 a.m. on a report of a car on its roof.
Firefighters worked for just over an hour to safely extricate a woman from the overturned car.
Johnson County Med-Act Public Information Officer Angela Fera says one woman was transported from the scene in critical condition.
Major Dan Tennis of the Shawnee Police Department said the woman is from Olathe and is expected to live. Tennis said she was not seriously injured.
The crash damaged a fire hydrant, throwing it approximately 75 feet from its base. A street light pole was also knocked over in the crash and a low hanging utility line was damaged.
Maj. Tennis said alcohol and the speed the woman was driving were contributing factors to the crash.
The Shawnee Police Department's Traffic Safety Unit continues to investigate.
---
Operation 100 News provides overnight news coverage for the Shawnee Dispatch. Follow on Twitter for real-time updates.