Stag's Creek project a potential 'gateway' to Shawnee, developer hopes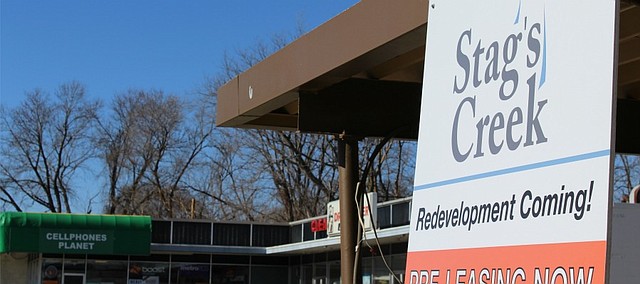 A Shawnee developer is looking to transform the entryway into Shawnee on westbound Shawnee Mission Parkway by redeveloping four mostly vacant buildings on the north side of the road.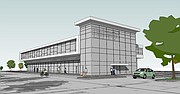 Kevin Tubbesing, owner of The Land Source and Stag's Commercial development, is hoping to build a combined 35,000-square-foot, $9 million development called Stag's Creek that he hopes will serve as a "gateway" to Shawnee. Preliminary plans are for three new office and retail buildings on the narrow strip of land between the Shawnee Mission Parkway frontage road and a storm water creek that leads to Turkey Creek.
Tubbesing said he is working with several restaurants and office tenants to occupy the buildings. Each of the tenants, he said, would be new to Shawnee, and one of them would be new to the entire Kansas City metro area. Tubbesing, through Stag's Commercial development, has developed several sites in and around Shawnee. He developed Stag's Grove, occupied by Dunkin' Donuts on Shawnee Mission Parkway, and Stag's View office building on Quivira Road at 75th Street.
To build a new set of buildings on the challenging piece of land for the Stag's Creek development, Tubbesing said, the city would need to consider moving the stormwater creek 40 feet to the north during its already scheduled Nieman Corridor South Storm Drainage Improvement project.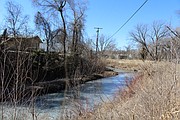 That project, which has funding from both the city and the county, will construct drainage improvements to help alleviate recurring flooding along the Turkey Creek tributary that runs behind the potential Stag's Creek project from Nieman southeasterly to Shawnee Mission Parkway. The improvement project began initial engineering studies back in 2014.
The city is currently considering two construction options for the project. One is the purchase and removal of 10 homes with no changes in the route of the 44-foot-wide concrete channel or 40-foot-wide natural channel. The second option includes the buy-out and removal of three homes and the widening of the current concrete creek bed to 65 feet.
The Shawnee City Council will discuss those options at 6:15 p.m. Feb. 22, as well as how to best utilize the county's Stormwater Management Advisory Council (SMAC) funds, at City Hall prior to the regularly scheduled council meeting.
Tubbesing hopes the city will consider a third option of moving the creek north to create more developable land.
"We hope the city will consider the realignment of the creek so we can do a better project for Shawnee," Tubbesing said.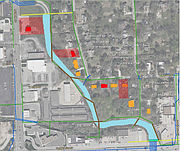 The extra land, Tubbesing said, would allow room for the size of development that the traffic on Shawnee Mission Parkway demands. Without that land, Tubbesing said, building upgrades would be a risky investment because of the lack of parking available.
"This site lends itself to being something bigger," Tubbesing said. "If we want to create a bold gateway that citizens of Shawnee can be proud of, then we're going to need to think outside of the box."
There are several obstacles associated with the land Tubbesing, a former Shawnee city councilman, is targeting in addition to the creek. The site also features three lots that have hazardous waste concerns.
On the northwest corner of Goddard Street and the Shawnee Mission Parkway frontage road is a building that housed a used-car sales lot, a pawn shop and at one point a Texaco gas station. Looking west from there is the building that used to be Texas Tom's drive-in restaurant and Fred's Drive-in before that, owned by Fred Nachbar. Further west is a one-level shopping center with a mobile phone retail space and Holiday Cleaners, and beyond that is a small car dealership office building that used to be Clark's Filling Station.
The two gas stations and the laundromat create a hazardous waste concern for any future developer, Tubbesing said. To develop on the laundromat site, the Kansas Department of Health and Energy first would need to confirm all of the soil is free of cleaning chemical contaminates. At the gas station sites, KDHE would need to monitor the soil for any oil contaminates.
All four of the buildings on that stretch of land have experienced trouble with maintaining occupancy for decades. Former Mayor Jim Allen worked for years to try to attract more permanent businesses to that corridor, he said.
"That's a difficult piece of ground to develop," Allen explained. "It's not very wide, and there's a large drainage creek behind it. But it's important in the long term to upgrade that section because it is the entryway to our community."
Allen, who has lived his entire life in Shawnee, says that corridor has had trouble since the expansion of what used to be Kansas Highway 10. The highway, which eventually became Shawnee Mission Parkway, used to be a two-lane road, and the businesses to the north had plenty of room for parking and development. In the late 1960s, when the highway was expanded to six lanes to create today's thoroughfare, it reduced the land available to those businesses significantly, Allen explained.
"They lost 50 or maybe 60 feet of right-of-way in front of those buildings," Allen said. "Maybe the timing is right to do this with the creek project already on the table and with (Tubbesing) looking to make this property work."
Tubbesing hopes he can partner with the city on the project to build up the eastern–most portion of Shawnee Mission Parkway in Shawnee. It has also been reported that Quik Trip is looking to build a location directly across the street on the southwestern corner of Shawnee Mission Parkway and Goddard Street
"This site really has the potential to be a statement piece for Shawnee," Tubbesing said.
More like this story