SMNW

's Burris wins Sunflower League girls bowling title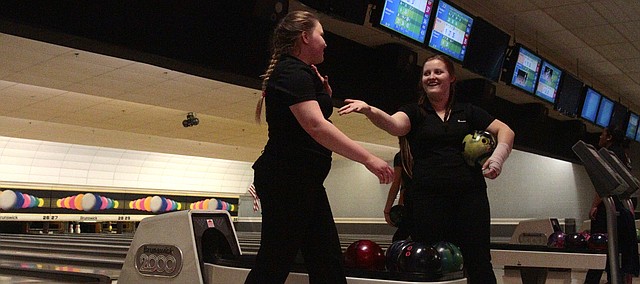 Olathe — The Shawnee Mission Northwest duo of Alaina Burris and Katy Doleshal finished first and second, respectively, at the Sunflower League Championships Thursday at Olathe Lanes East to help the Cougars to second place in the girls team standings.
Burris blew away the competition with a 678 series as she rolled games of 243, 264 and 171. The SM Northwest bowler's strongest stretch came in the second game, when she posted strikes on the first seven frames.
"It was honestly just having fun and competing at the same time," Burris said of her keys to success.
Doleshal narrowly missed having a series in the 600s, as she rolled a 599 to edge Olathe North's Chyenee Reiste by on pin for second place.
Reiste and the Eagles were able to get the last laugh, though, after they battled back in the third game to win the team title over the Cougars by 45 pins.
"I think coming in as a No. 5 seed for the girls, we were really focused on how we were going to do today, but with an eye on the Olathe schools because they're in our region," SM Northwest coach Billy Dent said. "They just kind of said, 'Forget that. Let's go out and get the whole thing."
The SM Northwest boys also placed two in the top 10 with Jalen Pak and Garrett Bolin bowling respective series of 637 and 624 to take eighth and 10th overall.
Pak was steady throughout with scores of 212, 202 and 223 to lead the Cougars to a fifth-place finish.
The SM Northwest top bowler's lone rough patch came at the beginning of the third game when he failed to get a spare or strike on two of the first three frames. Pak rebounded with six straight strikes to secure his top-10 finish.
"Normally I do well under pressure," Pak said. "I just do what has to get done."
SM North's Wunderlin finishes as boys runner-up
A nearly perfect second game propelled SM North's Travis Wunderlin to be the boys league runner-up with a 674 series. Wunderlin opened the second with a 9 on the first frame, but struck out the rest of the way for a score of 279.
The SM North junior was pleased with his career-best game, but couldn't help but think of how he was inches away from a perfect game.
"I got a little too high, and I just missed the last pin," Wunderlin said.
Wunderlin paced the Indians to a ninth-place finish.
Julia Hernandez led the SM North girls to a seventh-place finish with a series score of 499.
"It was really refreshing to see," SM North coach Deb Leonard said of Leonard, who placed 18th overall. "She has struggled the past couple of weeks and really had a hard time."
Both the Indians and the Cougars will return Thursday to Olathe Lanes East for the 6A regional championship, which has Wunderlin boiling with confidence after bowling a career-best series by seven pins.
"I feel like I can finally do what I've been going for my whole life right now, which is going to state," Wunderlin said. "I feel like I can do it."
Boys team scores – 1. Olathe East, 2624; 2. Leavenworth, 2581; 3. Free State, 2536; 4. Olathe North, 2487; 5. Shawnee Mission Northwest, 2445; 6. Olathe Northwest, 2431; 7. Olathe South, 2397; 8. Shawnee Mission East, 2377; 9. Shawnee Mission North, 2335; 10. Shawnee Mission South, 2220; 11. Lawrence High, 2207; 12. Shawnee Mission West, 2037.
Shawnee Mission North results
Travis Wunderlin 197-279-198 – 674, 34. Daniel Johnson 204-191-179 – 574, 40. Matthew Webb 191-183-181 – 555, 49. Peter Hubenett 169-190-173 – 532, 66. Jack DeNebeim 141-129-171 – 441, 68. Caleb Brooks 110-177-139 – 426.
Shawnee Mission Northwest results
Jalen Pak 212-202-223 – 637, 10. Garrett Bolin 186-212-226 – 624, 30. Colton Kinsella 179-213-189 – 581, 31. Kooper Jones 218-166-195 – 579, 50. Travis Morrison 179-150-201 – 530, 51. Colton Kreie 191-162-176 – 529.
Girls team scores – 1. Olathe North, 2249; 2. Shawnee Mission Northwest, 2204; 3. Lawrence High, 2126; 4. Olathe East, 2076; 5. Shawnee Mission West, 2049; 6. Free State, 1937; 7. Shawnee Mission North, 1870; 8. Leavenworth, 1791; 9. Olathe South, 1757; 10. Olathe Northwest, 1736; 11. Shawnee Mission South, 1702; 12. Shawnee Mission East, 1435.
Shawnee Mission North results
Julia Hernandez 151-173-175 – 499, 26. Sophia Burch 155-126-182 – 463, 40. Jazmin Burch 138-157-128 – 423, 45. Jessica Nivens 114-134-158 – 406, 49. Madeline Waldack 111-131-157 – 399, 53. Crystal Call 154-136-97 – 387.
Shawnee Mission Northwest results
Alaina Burris 243-264-171 – 678, 2. Katy Doleshal 202-185-212 – 599, 23. Hadley Sayers 149-165-160 – 474, 32. Madalyn Fagan 137-145-166 – 448, 48. Emilia Battles 142-117-141 – 400, 67. Alpha Hill-Spearman 100-91-144 – 335.