Maginn, Fangman shine at prelims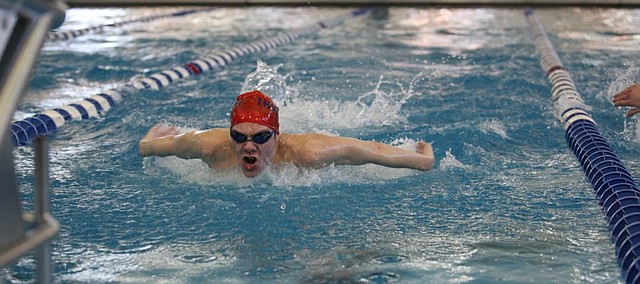 Topeka — St. James junior Andy Maginn put himself in position to make the Class 5-1A All-State first team with two strong swims in the preliminaries on Friday.
Maginn won the 200-yard individual medley by 20 tenths of a second, touching the wall in 1:59.13 — his best time of the year.
Six events later, Maginn took third in the 100-yard backstroke in 54.41 — another season-best.
"I love the finals," Maginn said. "I love the race, I love the good competition that's always here. It's going to be interesting."
He also helped the 400-freestyle relay, which dropped 12 seconds and the 200-yard freestyle make the championship with sixth and second-place finishes, respectively.
The Thunder were 1.4 seconds behind Wichita Heights in the 200-yard relay, and Maginn said a championship would be great.
He's not making any statements regarding his individual races, but his coach Kellee Hercules is.
"He wants to go 1 and 1," Hercules said. "Who doesn't want to go 1 and 1?"
In the 500-yard freestyle, senior Zach Abraham finished sixth to qualify for Saturday's final.
Hercules was excited for him since he didn't swim last season.
"He broke his hand in football and lost 20 pounds this season, it's been fun," she said.
Nick Callahan made the consolation finals in the 50-yard freestyle and the 100-yard freestyle, taking 12th and 15th in the preliminaries, respectively.
It's got to be the suit
Mill Valley's Garrison Fangman got a brand new swim suit on Thursday, and said it helped him swim three seconds faster in the 100-yard butterfly.
His 54.24 was good enough for the fourth-fastest time of the day, and he thinks he could go faster Saturday.
"Those always help even thought it might be a mental thing," Fangman said of the new suit. "Shaving your legs, wearing an expensive competition suit, it helps mentally and, I think, physically, too with water resistance."
He said, based on his preliminary swim that a third-place finish would be great.
Coach Dan Dervin was excited for Fangman and all three of the Jaguars' relays.
"It's the suit," Dervin said with a laugh. "If he believes it, lets go with it. It's that psychological, he's big on that."
All three relays were back Saturday swimming in the consolation finals.
"Each one of our relays dropped time," Dervin said. "The medley set the tone for the meet. The 200-yard freestyle put it down, and then the 400-yard freestyle blew us away."
The 400-yard freestyle relay dropped five seconds off the team's season best, but the group that swam it dropped eight seconds off their best.
Freshman Chris Sprenger, who swam the first first two relays and had just swam the breaststroke was left off the 400-yard team.
Sprenger didn't have the meet he wanted as he failed to qualify for Saturday in the 100-yard breaststroke.
He did, however, qualify for the consolation finals in the 200-yard individual medley.
"A little bit of nerves," Dervin said. "He puts a lot of pressure upon himself because he has high expectations. He PRed hugely at league. At sometime everybody plateaus."
Timing Error
When Shawnee Mission North's Charlie Kaifes touched the wall in the 100-yard backstroke, the scoreboard said he registered a 57.28.
However, North coach Cody Fothergill and the two manual timers had Kaifes faster.
"I was fighting like a madman for them to make sure the faster time was going to be the official time, because, clearly, the scoreboard was not right," Fothergill said. "I was fighting so hard because I thought it was going to be top eight and he just missed it."
When the official results came out, Kaifes swam a 56.26, which was ninth-overall.
"Normally it's five strokes and my last one is a little bit of glide," Kaies said of his finish. "I think when my arm was coming down, I migh have hit the top."
Kaifes was estactic either way because his time was a personal record.
His goal for the season was to place in the top-16. He wasn't sure he'd be where he is now.
"Just to be swimming with these guys that have swam their whole lives is great," Kaifes said. "A medal would have been nice, but at the end of the day, I have a school record and a time I'm proud of."
The Indians' 200-yard medley relay placed ninth qualifying for the consolation semifinals.