Maranatha's Henderson rises to occasion despite 82-46 loss to Barstow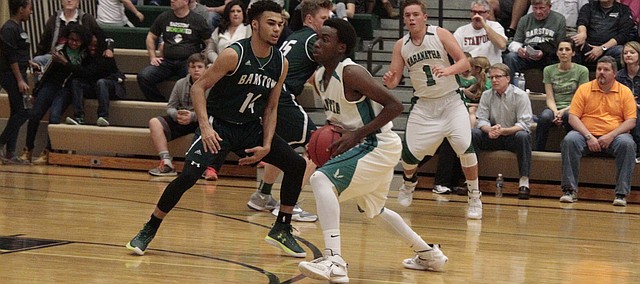 Maranatha Christian Academy senior Xavier Henderson did not care that he stood at least a foot shorter than the Barstow front court combo of Jeriah Horne and Shea Rush.
The 5-foot-6 Eagles guard attacked the rim anyway and hoisted shots over them on the way to a game-high 18 points in Maranatha's 82-46 loss to the Knights on Friday.
"It was a tough game — coming into it, we knew that," Henderson said. "But coach Travis Thompson) had preached to us that it is possible to hang with this team because although they've blown out everyone in our conference; he gave us a game plan to execute, and I believe we executed it to the best of our ability. That's just an amazing team with great caliber guys."
Barstow has breezed through the Crossroads Conference behind Rush — who committed to be a walk-on Sunday at North Carolina — and the Nebraska signee Horne. Horne and Rush totaled 13 and nine points, respectively, despite sitting out the second and fourth quarters.
Although the Eagles (4-14) were unable to contain the Knights on the defensive end, they were able to keep pace with them offensively for a few spurts in the second half. Henderson and senior Connor Heller knocked down three three-pointers apiece as the Eagles shot 8-of-16 from behind the arc.
"I thought we shot the ball great. Their size just really hurt us inside. But overall, our boys fought and battled," Thompson said. "We've been preaching that we're fighters all year, so it was good to see. In some games we have struggled shooting the ball, but tonight I think was one of our better shooting nights, so it was really good to see the ball go in."
Heller, who scored 13 points, nailed back-to-back triples for the Eagles right after the break, and Henderson drilled two of his threes in the third as well.
Henderson, Heller, David Peck and Ben Kynion were recognized before the game on the Eagles' senior night. The three other seniors and the team in general have meant even more to Henderson this season after his mother Pamela had surgery to remove two brain aneurysms in July after being involved in a car accident in May.
"They have become like a family to me," Henderson said. "I can come and talk to them about my problems and know that they would be there and be loving and caring. They just wrap me up in their arms when I needed it the most."
So while the high-octane offense of Barstow — which had five players score in double figures — was clicking on all cylinders, it did not put a damper on the Eagles celebrating their four seniors. In a message read to the players before the game, Thompson outlined how the four seniors have helped the Eagles win a lot more battles than the ones on the court.
"They have been our foundation. They've been our rock in tough times," Thompson said. "We can call X's (Henderson's) number. We can call on Dave and Ben and Connor. They have been a great core group, and we're really going to miss them."
MCA girls fall, 56-18
A 0-18 start to her senior season is not exactly what Maranatha Christian Academy girls basketball player Blythe Asbell had hoped for, but she has not let the results on the scoreboard get in the way of enjoying her final year with the Eagles.
Asbell was the lone Eagle recognized before the game for Maranatha's senior night, and scored six points on 3-of-6 shooting in a 56-18 loss to Barstow on Friday.
"She's all heart, 100 mph every second she's out there," Maranatha coach Ben Keech said. "Every ounce of everything she has is there for everyone to see, and everybody appreciates that."
Asbell was also honored after the game for being a two-time state medalist in tennis, and is going to play collegiately next year at Taylor University — an NAIA school in Upland, Ind.
Keech noted that Asbell's quickness from the tennis court translates over to the hardwood, but her character is what has been her biggest attribute to the team in her two years with the Eagles.
"She's been a role model from the first practice to tonight," Keech said. "The girls look up to her, and she's setting the future for future Maranatha teams of what a senior leader should be."
With seven of the 10 players on the varsity roster being freshmen or sophomores, Asbell said that this year's team has a lot different than last year's, but she has enjoyed leading the transition of the program.
"Last year, we had a lot better of a team, but this team has had a lot more heart," Asbell said. "I feel like we have worked a lot harder, and they really cared about one another a lot more, so that was cool. That was a big thing."
One of the sophomores who stepped up for the Eagles on Friday was center Maggie Friesen. The Maranatha center led the team with nine points, but Keech was more proud of Friesen's effort defensively.
"The 6-footer from Barstow (Kate Walsworth) gives her a good matchup, and she was up for the challenge," Keech said. "She wanted the basketball, and she did good things when she got it."
Walsworth led all scorers with 14 points as the Knights clinched a Crossroads Conference championship.
Barstow (82)
Jeriah Horne 6-6 0-1 13, Jonah Horne 5-7 1-2 11, Jonathan Felton 2-4 1-2 6, Shea Rush 3-5 3-5 9, Tripp Walsworth 4-8 1-2 12, Spencer Walz 2-5 2-3 6, Jacob Gilyard 4-9 0-0 10, Michael Boeh 1-4 0-0 3, Jared Gillen 4-5 4-6 12. Totals 31-53 12-21 82.
Maranatha (46)
Mitchell Peacher 1-3 0-0 3, Connor Heller 5-11 0-0 13, Jax Holland 1-2 0-1 3, Xavier Henderson 4-9 7-12 18, Roland Hou 0-3 2-3 2, Hunter Noe 0-1 0-0 0, David Peck 1-4 1-1 3, Cooper Hartwick 1-3 0-1 2, Ben Kynion 1-1 0-0 2. Totals 14-37 10-18 46.
Bartsow 29 15 27 11 – 82
Maranatha 6 11 17 12 – 46
Three-point goals: Barstow 8-20 (Walsworth 3, Gilyard 2, Boeh, Felton, Jeriah Horne); Maranatha 8-16 (Henderson 3, Heller 3, Holland, Peacher). Turnovers: Barstow 8, Maranatha. Fouled out: Connor Heller, Maranatha.