Shawnee, De Soto schools remind parents: Kindergarten prep important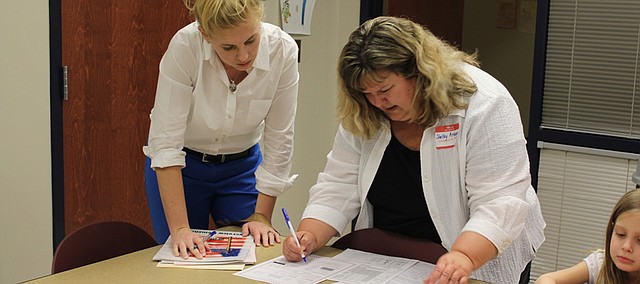 Emilie Rigolizzo is feeling pretty confident in her son's ability to succeed in kindergarten next year.
"I was more nervous sending him to preschool than I am to kindergarten," the Shawnee mom said.
Rigolizzo's son is her eldest, making this her first time sending a child into elementary school. But she said she feels comfortable because of how she has prepared him: putting him in preschool, where his teacher has confirmed he is gaining the skills he will need in kindergarten, and having him participate in sports and other programs to help his social skills.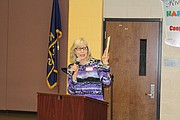 Though the start of kindergarten is six months away, the De Soto and Shawnee Mission school districts are hoping that preparation for kindergarten is on the minds of parents of young children. The De Soto district has just completed kindergarten roundups, preparatory meetings for parents of future kindergartners, and Shawnee Mission elementaries' events will take place in April.
But school officials say that they want to remind parents that getting a child ready for kindergarten isn't just filling out the mountain of paperwork necessary for enrollment.
Linda Starling, who has taught kindergarten for 16 years in the De Soto district, said parents are most often surprised at how much kindergarten has advanced, because the grade was more about socialization and the introduction to numbers and letters when the parents were in elementary school.
"Now the big push is to get the child to read by the end of kindergarten," Starling said. "I think that's a little shocking; they're like, 'I didn't have to do this when I was in kindergarten.' We're adding, subtracting, and I had a mom say the other day, 'That was a first-grade skill.' Well, we're doing it now."
Skills schools look for in incoming kindergarten students include exposure to the alphabet and writing their name, recognition of shapes and colors, and the ability to sit and listen to a story, to follow simple directions, and to manage their own daily needs, like buttoning or zipping coats.
There's also the social aspect — the ability of children to interact with their peers but also to operate independently.
If parents aren't able to put their children into a preschool program, or would like to augment it, both districts offer Parents as Teacher programs and activities for preschoolers. Shawnee Mission offers "Project Preschool," PTA-sponsored activities and events at the elementary schools for parents and preschool age children, from reading times to art and music activities. The De Soto district has an Early Childhood PTA that organizes playgroups and activities mainly at Mize Elementary School.
Both districts also offer developmental screening for preschoolers, if parents are concerned their children have a developmental delay, and services to help those students improve even before kindergarten.
Ed Streich, chief academic officer for the Shawnee Mission district, said that leading up to kindergarten, parents should also show their children that learning is meaningful and fun by doing simple things like interacting with children through gardening or grocery shopping or visiting the library, zoo or park.
"One of the things that's really critical is just to encourage children to do their best," Streich said. "Get your child involved with their peers and try to encourage them, because it really creates a huge advantage if they've had that socialization."
Streich said this year, Shawnee Mission will offer basic kindergarten screenings May 5 and 6 to provide parents some feedback on skills they may need to work on with their children over the summer.
Parents also may consider holding their child back a year, especially if they have a summer birthday and therefore turn 5 just before the Aug. 31 cut-off date to enter kindergarten, and if they are struggling with some developmental skills.
Stacey Yurkovich, district director of teaching and learning, said a lot of factors play into the decision to hold a student back a year before kindergarten, including gender, since girls are often more socially ready for school than boys.
"From my own personal experience at the middle level, we could really see it then," she said. "Boys who started kindergarten young, in middle school, socially, they just weren't at the same place as other kids, and it was difficult for them."
"It really comes down to what the parent thinks, because you know your child better than we do," Streich said. "Really parents are the best judge on whether your child is ready or not."
Streich said if a parent does decide to hold their child back, they have to plan for providing other support during that year to ensure their child continues developmental growth.