Shawnee Rotary Club announces Dan Cook Memorial
STEM

Scholarship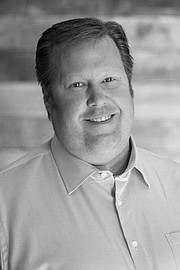 The Rotary Club of Shawnee, in memory of its former president Dan Cook, has established the first annual $1,000 Dan Cook Memorial STEM Scholarship in his honor.
The scholarship will be open to high school seniors who live in Shawnee or attend a high school located in Shawnee and who are committed to pursuing higher education in the STEM fields — science, technology, engineering and mathematics.
Brad Nielsen, the scholarship chairperson, said the Rotary Club wanted to establish some sort of memorial fund that embodied some of Cook's passions and personality. The fulfillment of that plan came when two companies that worked closely with Dan anonymously donated funds to establish the annual scholarship for years to come.
"Dan was a quiet, humble leader that each member of the Rotary Club of Shawnee knew and appreciated," Nielsen said. "He was dedicated to our club and had a passion for community service. He truly embraced and reflected our 'service above self' motto."
Cook was born in Sheridan, Wyo., on New Year's Day 1968, and later attended the University of Wyoming College of Engineering. He worked as a civil engineer for the Wyoming Department of Transportation as a project engineer at Rock Springs and Green River before moving to Kansas in 1996.
Here, he worked as a civil engineer for several companies until he joined Payne & Brockway in Olathe, where he met his future partners of Level 4 Engineering, LLC. He was also a vice president and project manager at Renaissance Infrastructure Consulting in Riverside, Mo. He was a member of the International Association of Civil Engineering and the American Society of Civil Engineers.
In 2000, he married Jamie Anderson. Cook died in March 2015 at the age of 47 in his home state of Wyoming.
Nielsen said the Rotary Club worked closely with Anderson in establishing the scholarship fund and molding a set of criteria to judge the applicants. While most scholarships simply look at quantitative measures of a student's success, Nielsen said Cook cared a lot about a person's qualitative attributes. So, Nielsen said the scholarship is open not only to top students but to students who have demonstrated a passion for the sciences.
"Dan always rooted for the underdog," Nielsen said. "What we're really looking at is the all-around person with a grasp of what they'd like to do in the STEM fields."
Applicants for the annual Dan Cook Memorial STEM Scholarship must complete an application and letters of reference and submit it by March 25 to be considered. For more information, students can contact their counselor at school or go to on the Rotary Club of Shawnee website.
More like this story