Extension cord fire causes $150,000 in damages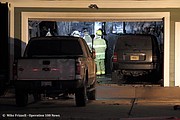 Shawnee and Lenexa firefighters made quick work of a garage fire early Thursday morning in the 7300 block of Woodland Drive.
Firefighters were called to the home at 7305 Woodland Drive minutes after midnight on a report of a fire in the detached garage.
Shawnee Fire Marshal Corey Sands says, "the cause of the fire was found to be from an extension cord that was not plugged into the outlet all the way."
"Damage estimates are $150,000 and mostly because of the two vehicles inside the garage at the time of the fire," Sands says.
The two vehicles damaged are a 2016 Ford F-250 Super Duty pickup truck and a 2011 Jeep Liberty.
Fire damage was contained to the detached garage. Sands says the homeowners are staying in the home this morning.
No injuries were reported.
---
Operation 100 News provides overnight news coverage for the Shawnee Dispatch. Follow on Twitter for real-time updates.
More like this story