Shawnee educator honored with national humanitarian award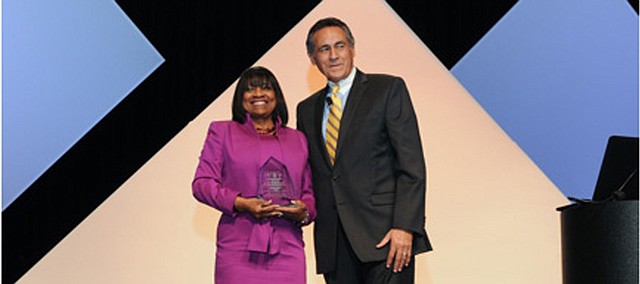 In her more than 40-year career as an educator, Elizabeth Sanders has dedicated herself to promotion of equity in schools, for her fellow educators and most especially for students.
The Shawnee resident said she has always felt the need to "be a voice for the voiceless, for the parents and children who have never been invited to the table of opportunity." She said that applies to those who were disadvantaged both economically and emotionally.
"One must look for that kid who is hoping that someone will notice them, who is reaching for a hand of help, as you walk through the halls, as you're in the classroom," she said. "… You want every child to know that someone cares about them because there is potential in every child."
Sanders' work was recognized earlier this month by the American Association of School Administrators, which presented her with the Dr. Effie H. Jones Humanitarian Award at its national conference in Phoenix.
The award honors leadership in educational equity and excellence. It is available to AASA members who show commitment to the advancement and mentorship of women and minorities into positions of educational leadership, and/or demonstrate a commitment to address social justice issues among children, youth and adults in schools.
Sanders, whose career has included creation of a group supporting minority staffers in the Shawnee Mission school district and becoming the first minority administrator in the Blue Valley school district, met these qualifications point for point.
Sanders grew up with her three siblings in Independence, Kan., where she said she received an excellent education that inspired her to become an educator herself.
"I like to say that there are two reasons," she said of choosing education as a career. "One, as a student, I liked the game called school and I excelled at the game. Then as I matured, I really believed that it is critically important to have the opportunity to work for all children despite their economic background and to help them reach their God-given potential and reach for the American dream."
She attended Pittsburg State University with a major in history and a minor in English. One year after completion of her bachelor's degree, she received a full fellowship and completed her master's degree in American history with an emphasis on black history. Sanders later earned her doctorate in educational policy and administration from Kansas University.
She moved to Shawnee after getting married and started as an English and social studies teacher at what was then Hocker Grove Junior High School, later moving on to Meadowbrook and Broadmoor middle schools and Shawnee Mission Northwest High School.
When she began with the Shawnee Mission district, she said, it had only about a dozen minority teachers, so she started a group called Minority Instructors for Kid's Education, designed to provide minority teachers with leadership development, peer coaching and advocacy for placement in academic and professional committees and the retention of minority educators.
Sanders credited the district for having a positive response to the group by strengthening its affirmative action policies and increasing minority representation in staffing across the board.
Sanders left the district to become the principal at Blue Valley North High School, the Blue Valley district's first African-American administrator and one of the first female administrators of a 6A high school. She later became principal at Olathe North as well as director of high schools in the Olathe district.
Her resume includes many other leadership roles, including serving as the president of the Kansas affiliate of the National Association of Supervision and Curriculum Development and the Johnson County League of Women Voters.
For two and a half years, she served as assistant superintendent in the Kansas City, Mo., school district, playing an instrumental role in helping the district move from unaccredited to provisional accreditation.
"I felt I had learned a lot and had been in high-performing organizations and could take those lessons learned and help make it happen," she said of taking the position.
Currently, Sanders serves as an education consultant; she also works as leadership development coach for the League of Women Voters of Kansas.
She has worked as an associate professor in the doctoral program and an adjunct professor at Baker University in Baldwin City.
She said receiving the AASA's national humanitarian award has been a humbling experience — she experienced some shock when she learned that she was to be nominated.
"When I was asked if I could have my name put in, I said, 'In the nation? I know I work hard, but in the nation? Come on guys,'" Sanders said.
She said she learned her nomination included 20 letters of reference, far above the required three, which has only inspired her to continue her work supporting equity in education.
"I want to definitely provide a return on investment of the time people spent writing those letters," she said.
More like this story