KU

's lavish shrine to Naismith's 'Rules of Basket Ball' takes shape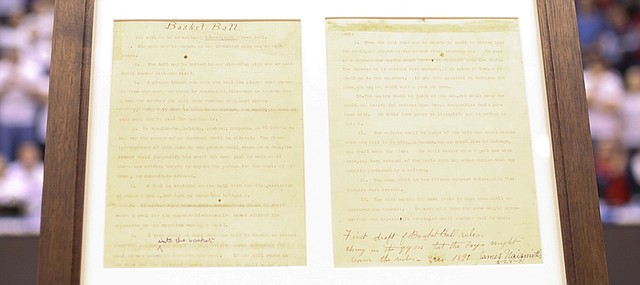 LAWRENCE — James Naismith's original "Rules of Basket Ball" now have a home at Kansas University — right down to the nook they'll rest in — but there's a lot of finishing touches yet to complete.
That nook, for example, still has loose wires sticking out of it and is surrounded by unfinished wood.
The target opening date for the DeBruce Center, being constructed adjacent to Allen Fieldhouse, is now mid to late April.
The rules themselves will be the final finishing touch, going in only after every tile is laid and every speck of dust swept up, said DeBruce Center director Curtis Marsh.
"The rules don't get put into the case until every stitch of construction is in place," Marsh said. "We are not messing around with those rules."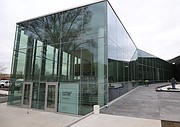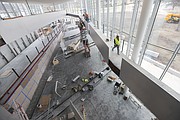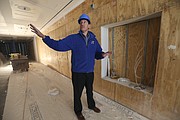 KU alumnus David Booth and his wife, Suzanne Booth, purchased the 1891 document at auction in 2010 for $4.3 million — a sports memorabilia record, according to Sotheby's in New York City.
The 32,000-square-foot DeBruce Center is being built to house the rules, but also as a union-style space that will be open to students and the public six days a week. KU Memorial Unions will run it.
"This facility has to serve a dual purpose," said Marsh, a KU Memorial Union employee who also is the director of KU Info. "It is, of course, a shrine to the original 'Rules of Basket Ball.' It is also a student center on campus."
The building will be open to the public until 5 or 6 p.m. each day except Sunday. Marsh said it will be available to reserve for events and will probably be used for Williams Education Fund events during men's basketball games, although the portion of the building housing the rules — accessible through Allen Fieldhouse — should remain open to the public during games.
The Lawrence Journal-World got a hardhat tour of DeBruce last week.
Walls, ramps, stairs, kitchen areas and most railings are in place. Wall finishes, countertops, some flooring, a decorative metal wall, museum displays — and of course, the rules display — remain unfinished.
The DeBruce Center has floor-to-ceiling glass walls and hardly any enclosed rooms or even levels. Here's a list of areas inside the open-concept building:
• Main entrance: Located at the northeast end of the building, facing the Naismith Drive and Irving Hill Road intersection. Just inside will be a coffee bar. A life-size sculpture of Naismith by the late KU professor and bronze artist Elden Tefft will be located outside.
• The Rules Concourse: A gently sloping ramp leading from the main entrance to the rules. Thirteen 10-foot glass panels flanking the ramp will tell he story of "the origins of basketball and how that story has a lot to do with the University of Kansas," Marsh said. Along the way, visitors will pass the Original Rules Store, a gift shop featuring rules and KU memorabilia and attire.
• The Rules Gallery: Future home of the rules, flanked by historical displays about Naismith and legendary KU basketball coach Phog Allen. One end of the gallery opens into Allen Fieldhouse and the other into the DeBruce Center.
No glass walls here, as the rules must be protected from excess light. The old papers are in a Smithsonian-grade protective case that regulates humidity, Marsh said. They'll be displayed behind electrochromic glass that will remain opaque, protecting the document from light, until a viewer presses a button to illuminate the case.
• Mezzanine dining and lounge area: Open seating area on top level, overlooking main dining area below.
• Nutrition Kitchen: Also on the top level, a small dining area and cafeteria envisioned for KU athletics team meals and meetings.
• Courtside Cafe: On the lowest level. A cafeteria similar to the Market in the Kansas Union, with four different food stations featuring salads, wraps, rice bowls, crepes and a churrasca-style grill.
• Main dining and lounge area: Spans much of the main level, beneath soaring glass walls and open ramps to upper levels. Capacity is 200.
The DeBruce Center is at the corner of KU's Central District, expected to become a much busier part of campus over the next couple years as multiple new residential and academic buildings go up.
The Burge Union will close for good in mid-March, then be torn down and replaced with a new union featuring a large ballroom and other meeting spaces.
Marsh said KU Memorial Unions expects there to be enough demand for gathering spaces that both the new union and DeBruce will be well-used — and provide groups a choice between different atmospheres.