Shawnee students take part in Rube Goldberg competition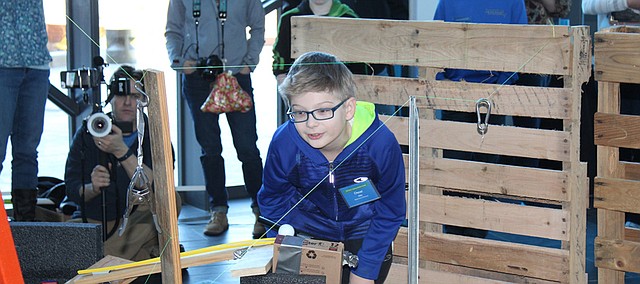 Only a few nights before they were set to take part in a Rube Goldberg Machine competition sponsored by Black & Veatch, Broken Arrow Elementary students faced a serious challenge.
Rube Goldberg Machines are overly complex contraptions used to accomplish simple tasks. For the competition, which took place Saturday morning at the Museum at Prairiefire in Overland Park, they needed their machine to have 10 to 35 steps that would open an umbrella and fit within a space only about 10 feet square.
So far, they only had about four steps. What counts as a step?
"It's a transfer of energy," explained Hollyn Smith, one of the members of the Broken Arrow team of fifth- and sixth-graders.
And energy was being transferred through their machine by marbles on ramps hitting a mousetrap that then hit a baseball, which rolled down a ramp to hit the button that opened the umbrella.
Team member Dylan Reed suggested the easiest solution was to keep the start and the finish, but add a few more steps in the middle.
"So we'll have the same thing happen, it just won't happen as soon," he said.
The work going on between the students was exactly why Michael Brewer, Broken Arrow principal, agreed to enter the competition in which the Trialblazers would face fellow Shawnee Mission students from Indian Woods Middle School, and from Aubry Bend Middle School, which is in the Blue Valley school district.
"It's the kind of work I like kids doing to extend their learning," Brewer said. "It builds creative problem solving and collaboration."
The Broken Arrow team was a bit behind, having entered the competition late, Brewer explained. The contest's organizers sought another school that had available "Maker Space" and a willing team, and Broken Arrow had its Trailblazer Academy already meeting in its Maker Space weekly after school for a Project Launch engineering lesson.
Brewer invited several members of that group to join the Rube Goldberg team: in addition to Hollyn and Dylan, team members include Neha Kunar, Oscar Ohly, Jacob Sell, Rohan Shroff and Katelyn Ziegler, along with Brewer and advisors Matt Kennedy, the school's instructional coach, and Scott Reed, a parent volunteer.
They spent a lot of time reviewing what Rube Goldberg machines were and what kind of transfers were possible before facing the task of creating their own machine from almost nothing, only the main requirements the machine open an umbrella and operate within a certain size of space with a certain number of steps or energy transfers.
"You really have to brainstorm ideas and be accepting of other people's ideas," Brewer said of creating a plan for the machine. "They've learned so much just about teamwork in the last few weeks."
Brewer said in the beginning, when they had almost nothing to start with, the students were almost "paralyzed" — it took some successes before they became excited for more — but even that was good.
"So many times we don't let kids just struggle through problems, and sometimes just letting them struggle through a problem is a good skill to learn — that perseverance and determination," he said.
Scott Reed, a parent volunteer with the Trailblazers Academy, said the adult advisors did their best to live up to the idea of letting students find their own solutions.
"We've kind of tried not to help them too much," he said.
And with minimal help, the students came up with more steps, involving dominoes, "zip lines" with a carabiner and a clamp, and even a rat trap in addition to the two mouse traps included in energy transfers.
The students were aware going in that they would face some stiff competition from teams of older students who had had more time.
"Our machine is a beginner machine, I think," Brewer said.
But still, they earned an award for best presentation. Though the machine worked Friday night, it did not successfully complete its task in two tries at the competition. The overall first place award was given to Indian Woods.
Saturday's competition was part of an international competition in which teams of students from middle school to college age compete in building the most elaborate and humorous Rube Goldberg Machines. As winners, Indian Woods will compete in the online finals for the International Division I Championship for ages 11 to 14 in April.
More like this story