St. James Academy boys fall to Aquinas in thriller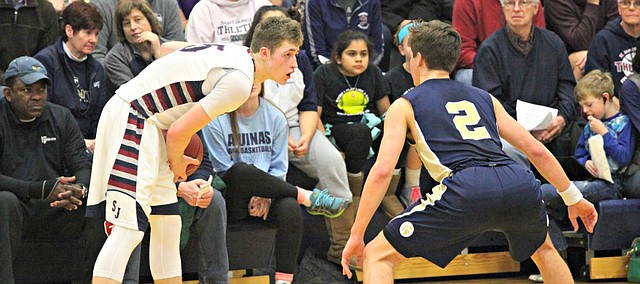 Lenexa — Zach Thornhill had been unstoppable all day, so it was only fitting that St. James' top scorer had the ball in his hands with 16.3 seconds on the clock with the game tied at 56.
Thornhill took the inbounds pass, dribbled to the center of the court, crossed the ball over to his right and made one more dribble back to the left.
The ball bounced free, and St. Thomas Aquinas forward Angelo Allegri scooped it up and passed to teammate Ben Hagenkord, who was fouled on a layup attempt with 1.7 seconds to play.
Hagenkord knocked down both free throws, and the Saints escaped with an exhilarating 58-56 road victory on Saturday afternoon in front a raucous, packed gymnasium.
"If we get a loose-ball rebound anywhere in the last two minutes, it could have been a different story," St. James coach Stan Dohm said. "They out-willed us to some balls there late, grabbing loose balls. Obviously, turnovers hurt. This one's going to hurt for a while."
Despite the miscue in the waning moments, Thornhill was the catalyst for the Thunder (4-3) all afternoon, pouring in a game-high 29 points. Kyle Dekraai finished with 11 points, and Keenan Fitzmorris added nine.
Hagenkord led the Saints with 19 points, and Allegri finished with 18.
The final two minutes of the game were played after a medical emergency in the stands led to about a 15-minute delay during which the teams retreated to the locker rooms. It was an unprecedented stoppage that took place just after the Thunder had grabbed a 54-49 lead on a layup from Dekraai with 2:17 remaining.
"There's nothing you can do," Dohm said. "They had played 30 minutes of a basketball game, and both teams had to do it. There was no advantage by either one of them. We were up five with two [minutes] to play when it happened. When we got back, in they got a 3-point play right away that just totally changed the game."
That 3-point play came courtesy of John Schneiders, who hit a layup while being fouled and knocked down the free throw to cut the lead back down to two at 54-52.
St. James maintained its lead until Schneiders hit a pair of free throws with 53 seconds left. That knotted the contest at 55. After taking a timeout, the Thunder had a chance to take the lead for good, but Allegri's heads-up play led to the fastbreak and the eventual game-winning free throws.
"Anytime these two schools play, it's going to be an energetic crowd," Dohm said. "We talked all week about controlling our emotions and using it for a positive instead of a negative. We're really young. A lot of our guys, it's the first time they've been in an enviornment like that in pressure situations. It does hurt because of who we played, but hopefully we'll get better because of it."
Lady Thunder lose
The St. James girls also came up on the losing end of a mostly-competitive game on Saturday, falling 46-36 to St. Thomas Aquinas.
The Lady Thunder (3-4) were led by Ali Burke, who scored a team-high 14 points. Burke knocked down three 3-pointers in the second quarter, the last of which pulled her team within one of point of the lead at 28-27 just before the buzzer.
Kayla Staley added 10 points for the Lady Thunder.
St. James trailed 16-9 at the end of the first quarter, but the girls rallied and finished the first half on a 12-4 run.
The Lady Thunder had trouble finding the bottom of the net in the third quarter and were held without a point until Courtney Setter's layup at the 3:02 mark made the score 33-29, Aquinas.
"I think it was good defense by Aquinas," St. James coach Greg Hohensinner said. "I think they just stepped it up a little bit. What we were trying to do wasn't working for us, and they're a good team."
The Lady Saints held a 38-31 lead at the end of the quarter and kept St. James at arm's length throughout the fourth, building a 45-31 lead halfway through the period.
"I think our team came out and played really, really well today," Hohensinner said. "I was pleased with the way they came out, and we played with that intensity the second half."
Aquinas was led by Alayna Townsell and Sereena Weledji, who scored 12 and 11 points, respectively. Allie Koster finished with nine points, and Allison Thomas added eight.
---
Jon Poorman is the Mill Valley and St. James sports reporter for The Dispatch. Follow him on Twitter at @JonPoorman for all of the latest community sports news.