Lautt, Cokeley lead St. James wrestlers in Texas
The St. James Academy wrestling team captured a seventh-place finish out of 28 teams this past weekend at the Allen (Texas) High School Outlaw tournament, performing well against some of the toughest competition from the Lone Star State and beyond.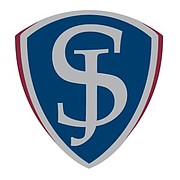 The Thunder finished with a total score of 296 points, preceded by Allen (557), Smithville (456), Westmoore (431.5), Garden City (382), Tulsa Union (350) and Olathe North (339.5).
St. James was led by of pair of first-place finishers — juniors Sammy Cokeley (24-4) and Clay Lautt (24-3), who won the 160- and 170-pound divisions, respectively.
Cokeley won his weight class with a pin of Airline (La.) junior Christian Walden (32-1) at the 5:05 mark. Lautt, meanwhile, won a 10-3 decision over Garden City junior Jesse Nunez (23-3) in the finals.
Other key contributors for the Thunder included senior Stephen Tujague (second place, 138 pounds), senior Tyler Hensley (fourth, 152 pounds), junior Dominic Stean (sixth, 195 pounds) and sophomore Drew Ernsdorff (eighth, 120 pounds).
---
Jon Poorman is the Mill Valley and St. James sports reporter at The Dispatch. Follow him on Twitter at @JonPoorman for all of the latest community sports news.
More like this story