Falcons surge late past Lady Cougars, 44-41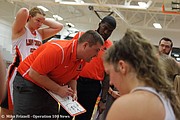 Shawnee — Shawnee Mission Northwest led or was tied with Olathe South for 30-plus minutes in a battle of previously undefeated girls basketball teams Tuesday at SMNW, but the Falcons went on a 10-2 run over the final four minutes to hand the Cougars a 44-41 setback.
The Falcons (6-0) took their first lead with 1:13 to go at 40-39 on two DaJanae Roebuck free throws, and never relinquished the lead for the remainder of the contest.
The Cougars (5-1) had a chance to tie after two freebies by O-South's Makayla Gooch, but Danielle Rehor's 3-pointer at the buzzer was no good.
"The pressure got to us a little bit," SMNW coach Tyler Stewart said. "They finally got us sped up enough to where we made a few errors and made it to where we didn't get good looks. They got a little bit into transition and pushing."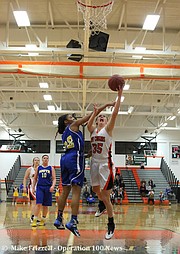 SMNW was led by senior Brenni Rose, who scored nine of her team-high 15 points at the charity stripe.
"I haven't practiced all week, so I was just going to the basket and hoping to go to the free-throw line," Rose, who was battling an illness, said. "I'm a little tired, so I was short on everything."
While Rose was effective getting to the bucket with her 6-foot frame, the Falcons had plenty of versatile weapons with size as well. Roebuck – a 5-foot, 10-inch senior forward – made a living at the line, too, knocking down seven of 10 free throws and shooting three of nine from the field for 13 points. Falcons 6-foot senior Kacey Kennett and added nine points, scoring all four of her field goals in the first half.
"It's hard to look inside when you can't see over anybody," Rose said. "I even thought some of their guards were longer than most."
Although the Falcons' length was tough at times for the Cougars to defend, Stewart set his team up in a 1-3-1 zone that gave Olathe South problems in half-court sets.
"It did exactly what we kind of wanted it to do, which was change the rhythm up and try to get Olathe South out of rhythm a little bit offensively because they're a good offensive team," Stewart said.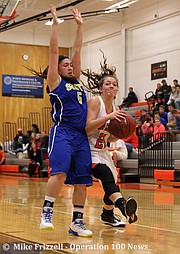 The Falcons' run over the last four minutes was fueled primarily from suffocating defense from Gooch, who is close friends with both Brenni and Emmalee Rose. Gooch was matched up with Emmalee Rose for most of the night, and did not give the Cougars guard much room to shoot. Rose and Rehor hit back-to-back 3-pointers for SMNW's first six points, but Gooch helped shut the Cougars from beyond the arch after that. Emmalee Rose accounted for the Cougars' lone other 3-pointer, as SMNW finished three-for-10 from long distance.
"We started the game with a lot of energy, and we were really pumped," Emmalee Rose said. "We just kind of slowed down and everyone was exhausted. We didn't step up the last quarter like we should have."
Gooch also came away with five steals and forced two five-second violations. Despite frustrating Emmalee Rose on the defensive end, Stewart thought that the matchup against Gooch will help his junior point guard later in the season.
"She can really defend the full 94 feet. I think she did a great job defending, and that's something to where the whole game is a learning experience for us coming right out of Christmas," Stewart said of Gooch. "They're one of the top teams in the state and in Kansas City. It was something we can definitely learn from, and we got better from this game."
The Cougars will be back in action on Friday at Leavenworth.
OS (44)
Kaiti Butaud 1-3 0-0 3, Makayla Gooch 2-4 3-4 7, Kara Holder 3-7 0-0 8, Zoe Matje 0-3 0-0 0, Kacey Kennett 4-6 1-2 9, Lindsey Bartels 2-4 0-0 4, DeJanae Roebuck 3-9 7-10 13. Totals 15-36 11-16 44.
SMNW (41)
Carson Vielhauer 0-1 0-0 0, Shelbie McLain 1-4 0-0 2, Emmalee Rose 2-6 3-4 9, Melissa Schmidt 2-2 0-0 4, Jordann Nachbar 2-3 0-0 4, Sarah Peterson 1-2 2-4 4, Danielle Rehor 1-4 0-0 3, Brenni Rose 3-4 9-9 15. Totals 12-26 14-18 41.
SMNW 10 10 13 8 – 41
OS 7 13 8 16 – 44
Three-point goals: Olathe South 3-10 (Holder 2, Butaud); SMNW 3-10 (E. Rose 2, Rehor). Turnovers: Olathe South 6, SMNW 11.
More like this story