Fourth quarter dooms Jaguars against Basehor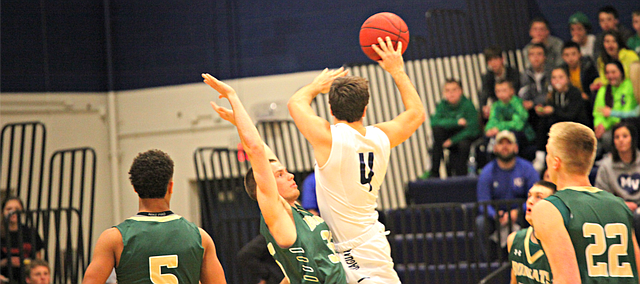 Shawnee — It was looking like a good old fashioned barn-burner in the making. And then the fourth quarter began.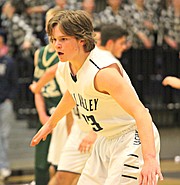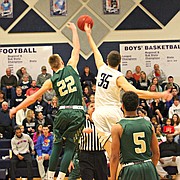 The Mill Valley boys lost to visiting Basehor-Linwood, ranked No. 1 in Kansas Class 4A, by a score of 75-56 in what was an exciting Kaw Valley League showdown on Tuesday night.
The Bobcats started the fourth quarter on a 10-0 run and never looked back as they outscored the Jaguars 21-8 in the period to seal the victory.
Jack Dale scored a team-high 21 points for Basehor-Linwood, 16 of which came in the second half. Cooper Kaifes led Mill Valley, also pouring in 21 points, including 15 in the first half.
Jahron McPherson was also a key contributor for the Bobcats, scoring 14 of his 19 points in the first half. Teammate Nick Fisher finished with 15, Kasey Conklin scored 14 for the Jaguars.
"I think in the end they just were a little bit tougher than us and did the right things," Mill Valley coach Michael Bennett said. "They got to the free-throw line, drove a little bit harder, finished plays, made shots, made layups, made some and-1s. It just boils down to finishing the game and being able to do what we need to do to win games."
Both teams came out of the gates with a lot of energy, but a 3-pointer from Derrell McLemore gave the Jaguars a 19-10 lead with just 35 seconds to play in the opening quarter.
The Bobcats got a big boost from McPherson as the buzzer sounded, however, as the senior guard buried a running 3-pointer from the left wing.
After trailing 34-30 at the intermission, Basehor-Linwood finally took back the lead at the 6:42 mark of the third quarter and finished on a 9-2 run to grab a 52-48 advantage.
Fisher and Dale combined to score 18 of the Bobcats' 22 points in the period.
The final quarter belonged entirely to Basehor-Linwood. The Bobcats went 10-for-13 at the charity stripe in the final eight minutes to help them pull away.
"I thought we played hard, and I thought we played well at times," Bennett said. "I thought we executed, but in the end, we didn't make enough plays, and we didn't make enough stops. It's tough, but these kids want to get out and compete and be challenged. We know Basehor is a good opponent, so it's a good indicator of where we need to be and how we need to play. We've still got a ways to go."
Basehor-Linwood 75, Mill Valley 56
BLHS - 13 - 17 - 22 - 23 — 75
MVHS - 19 - 15- 14- 8 — 56
BLHS: Dale 21 points, McPherson 19, Fisher 15, Hazel 8, Gilliam 4, Ku. Tatkenhorst 3, Ka. Tatkenhorst 5.
MVHS: Kaifes 21 points, Conklin 14, Koch 4, McLemore 7, Widmer 4, Holmberg 2, Grauer 4.
---
Jon Poorman is the Mill Valley and St. James sports reporter at The Dispatch. Follow him on Twitter at @JonPoorman for all of the latest community sports news.