Hendrix, Lady Jags take down Basehor-Linwood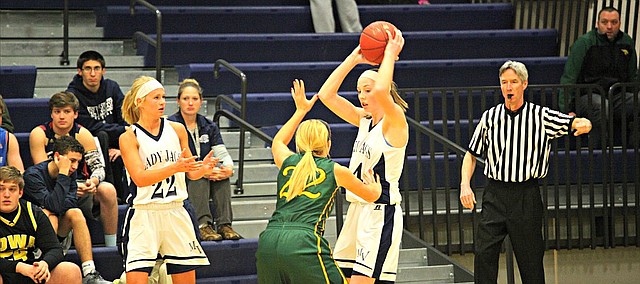 Shawnee — "Let's go!" yelled Ashlyn Hendrix as she came to the bench with 10 seconds remaining on the clock. The reason for her excitement? Mill Valley's gritty 51-40 home victory over Kaw Valley League rival Basehor-Linwood on Tuesday night.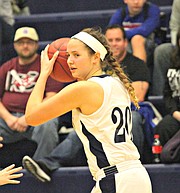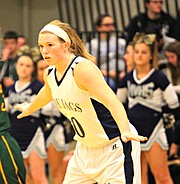 Hendrix was the catalyst for the Lady Jaguars, scoring a game-high 17 points. Fourteen of those points came in the second half as her team extended its halftime lead and held the visiting Lady Bobcats at arm's length.
Trinity Knapp and Evan Zars each chipped in nine points for Mill Valley, and Claire Kaifes finished with seven. Chandley Easley scored a team-high 10 points for Basehor-Linwood.
"It's something we've talked about since Day 1 and something I preach to every team," Mill Valley coach John McFall said of his team's dominant second half. "We knew they were going to make a run at us. They're feisty, and they're aggressive, and they didn't do anything that surprised us. I'm really proud of my girls."
Both teams struggled offensively in a 9-7 first quarter in favor of Basehor-Linwood. But the Lady Jaguars started to find a rhythm in the second quarter and finished the first half on a 9-4 run that gave them a 23-19 advantage heading into the locker rooms.
Mill Valley came out strong in the second half and grabbed a 36-26 lead at the 2:05 mark of the third quarter on a layup by Hendrix.
Trailing 40-32 at the beginning of the fourth quarter, the Lady Bobcats battled back and cut the lead to five with 5:04 remaining. But the Lady Jaguars immediately put a stop to the rally attempt, closing the game on a 9-3 run to secure the win.
"We were using some different lineups," McFall said. "Catie [Kaifes] is obviously one of our leaders, and she was in foul trouble. We continued on, so that's a real positive. Courtney [Carlson] showed leadership, Evan, Ashlyn — they just all stepped up and contributed. This is where we can start to build."
Mill Valley 51, Basehor-Linwood 40
BLHS - 9 - 8 - 15 - 8 — 40
MVHS - 7 - 16 - 17 - 11 — 51
BLHS: Bergman 7 points, Gore 4, Wheeler 2, Yankovich 2, Zo. DeLeon 8, Smith 2, Rutherford 3, Za. DeLeon 2, Easley 10.
MVHS: Hendrix 17 points, Zars 9, Knapp 9, Carlson 5, Cl. Kaifes 7, Ca. Kaifes 4.
---
Jon Poorman is the Mill Valley and St. James sports reporter at The Dispatch. Follow him on Twitter at @JonPoorman for all of the latest community sports news.
More like this story