Brockmann steps up,
SMNW

wrestling still falls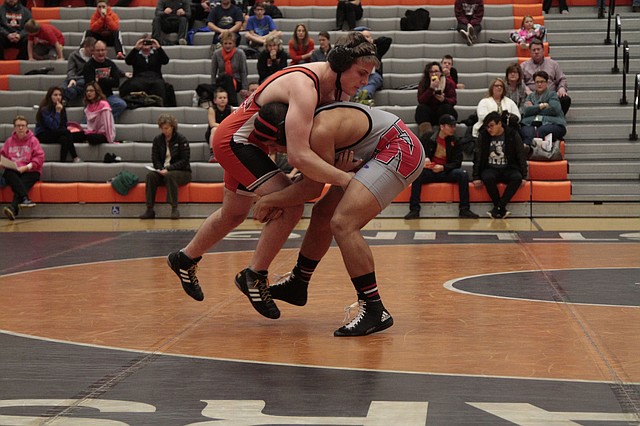 Shawnee — Shawnee Mission Northwest wrestler Charles Brockmann has already faced his fair share of challenges as a freshman competing at the varsity level, but he was dealt another tough task Wednesday in the Cougars' dual against Blue Valley West.
Brockmann normally competes at the 113-pound weight class, but he was asked by SMNW coach Howard Newcomb to wrestle up at 120 pounds in the Cougars' 52-21 loss to the Jaguars, Wednesday.
The freshman kept his composure, and came away with a 12-8 win by decision over Blue Valley West's Zach Schram.
"I tried to not think about it because that would make it harder," Brockmann, who improved his record to 16-3, said. "I was being too slow on bottom, and I wanted to fix that and got up."
The Cougars entered Wednesday's dual short-handed, as Newcomb sat 106-pounder Jerad Habben, 138-pounder Trevor Rine and 152-pounder Brian Morelan to ensure that they stayed under the maximum number of competitions within a certain timeframe that is allotted by the Kansas State High School Activities Association. BV West also had its only open spot in the lineup at 113 pounds, but Newcomb was pleased with Brockmann's performance after all of the juggling to complete his roster for Wednesday.
"He just did a great job. "He was giving up a lot of weight as a freshman. He just comes out and he battles," Newcomb said. "He battles, he has a lot of pride and he doesn't like to get scored on. That's kind of like what our 'Prepare Like A Champion' logo is."
SMNW continued its success at the lower weights with back-to-back second-period pins from Gavin Hartman and Jermaine Epps at the 132 and 138-pound divisions. Epps, a junior transfer from Wichita Northwest, has enjoyed his time so far at Northwest and making the switch over to Newcomb's program.
"He's more of a fundamentally and conditioning type of coach," Epps, who also was wrestling up a weight class, said.
Epps' win by fall over BVW's Keegan Elliott gave the Cougars a 21-10 advantage, but they were SMNW's last points of the night. SM Northwest had three open slots at 195, 220 and 285 pounds to help seal the victory for Blue Valley West.
"That's tough. We've got to get some big guys out," Newcomb said. "(One hundred ninety-five), 220, heavyweight … I don't have a magic answer for that one."
The Cougars will head next to the Bonner Springs Classic, Saturday at Bonner Springs High School.
Blue Valley West 52, Shawnee Mission Northwest 21
106 - Ali Hassan (BVW) won by fall over Dominique Brooks (SMNW), 0:49.
113 - Doug Bueso (SMNW) def. Open (BVW).
120 - Charles Brockmann (SMNW) def. Zach Schram (BVW), 12-8.
126 - Cody Camerlink (BVW) won by major decision over Colin Anthony (SMNW), 12-4.
132 - Gavin Hartman (SMNW) won by fall over John Wills (BVW), 2:32.
138 - Jermaine Epps (SMNW) won by fall over Keegan Elliott (BVW), 3:15.
145 - Dillon Grantham (BVW) won by decision over DeVonte Smith (SMNW), 4-2
152 - Jake Schram (BVW) won by fall over Robert Strain (SMNW), 0:21.
160 - Sam Grandon (BVW) won by fall over Kevin Thompson (SMNW), 2:50
170 - Aaron Davis (BVW) won by decision over Trenton Smith (SMNW), 4-1.
182 - Chris Morris (BVW) won by fall over Cole Dugan (SMNW), 0:32.
195 - Paul Wolff (BVW) def. Open (SMNW).
220 - Zack Lutchefeld (BVW) def. Open (SMNW).
285 - Ali Daifallah (BVW) def. Open (SMNW).
More like this story