Slow start dooms
SM

North wrestling against

BV

North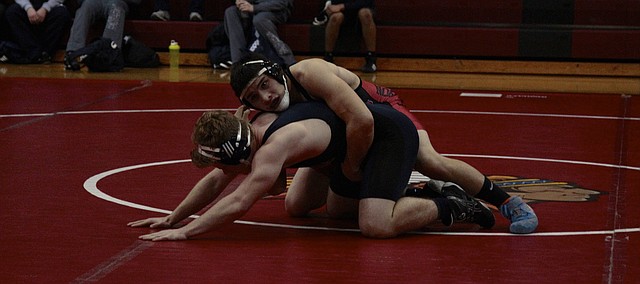 Overland Park — After five matches of Shawnee Mission North's wrestling dual Thursday against Blue Valley North, the period clock had still yet to budge, and to the displeasure of SM North coach Tom Peterman, his team's score hadn't either.
SM North forfeited the first five matches to give the Mustangs a 30-0 lead, and SMN couldn't recover – eventually falling to BV North, 58-18.
Peterman anticipated being in an 18-0 hole, but not 30-0. 126-pounder Logan Aguirre and 132-pounder Alonso Salgado both failed to make weight prior to the dual, leaving 138-pounder Jeremy Sanchez as the first SMN wrestler to take the mat. With Aguirre being a freshman and Salgado still learning the ropes despite having qualified for state last season, Peterman had one simple message for the two underclassmen wrestlers.
"How they hurt their team. They hurt their team," Peterman said. "Even though it's individual, you have to go out and do your job on the mat. It's a team sport, they keep a team score and sometimes that's what hurts the team is when you weren't able to do your job."
After Sanchez, freshman Arthur Bagdasaryan, sophomore Luke Guthrie and senior Noah Bryan were unable to put SM North on the board, 170-pounder Cesar Salgado put the skid to a screeching halt with a second-period pin of BVN's Danny Pursley. Peterman's message of putting team before self is one that has been deeply rooted into Cesar as one of SMN's four seniors in the varsity lineup, and wiping the zero off the scoreboard meant a lot to the 170-pounder.
"I wrestle for my team, but I also wrestle for myself. In doing that, I want to actually give us a name, knowing that we're not all bad wrestlers," Cesar Salgado, brother of Alonso Salgado, said. "It gives us an opportunity for people to look at us and say that this program can grow."
Despite the efforts of Cesar Salgado, Bryan, Joe Steve (won by forfeit) and Nick Carson (won by fall) to lead by example and get the most out of their teammates, growth in numbers is something they have not seen this season.
"I had a (106)-pounder quit this week," Peterman said. "We started out with 48 kids, and I'm down to 18."
Carson has not lost any hope in anyone remaining on the team, and is one of the most confident wrestlers on the squad according to Peterman. The senior heavyweight made quick work of BV North's Jacob Petree by pinning him late in the first period. With being the last member of the team to take the mat, ending the dual on a high note was important to Carson in hopes that his confidence will spread to his teammates going forward.
"I lead my team in pins, so I wanted to increase that," Carson said. "I knew to beat this guy, I just had to get really aggressive right off the bat and get him to the ground. I knew I had a lot of moves and combinations to finish the match early."
SM North will take the mat again on Jan. 16 at the Plattsburg (Missouri) Invitational.
Blue Valley North 58, Shawnee Mission North 18
106 – Landry Hinojosa (BVN) def. OPEN (SMN)
113 – Rocky Moore (BVN) def. OPEN (SMN)
120 – Johnny Douglas (BVN) def. OPEN (SMN)
126 – Ethan Haines (BVN) def. OPEN (SMN)
132 – Keaton Bowers (BVN) def. OPEN (SMN)
138 – Isaiah Banks (BVN) won by decision over Jeremy Sanchez (SMN), 10-5.
145 – Dylan Hailey (BVN) won by fall over Arthur Bagdasaryan (SMN), 1:25
152 – Adam Haines (BVN) won by major decision over Luke Guthrie (SMN), 9-1
160 – Alex Waggoner (BVN) won by fall over Noah Bryan (SMN), 1:31
170 – Cesar Salgado (SMN) won by fall over Danny Pursley (BVN), 3:32
182 – Ryan Kleper (BVN) won by decision over Tanner Willman (SMN), 10-3
195 – Joe Steve (SMN) def. OPEN (BVN)
220 – Landry Brewton (BVN) won by fall over Jeffrey Downey (SMN), 0:13
285 – Nick Carson (SMN) won by fall over Jacob Petree (BVN), 1:47