Mill Valley girls fall to Bonner Springs on the road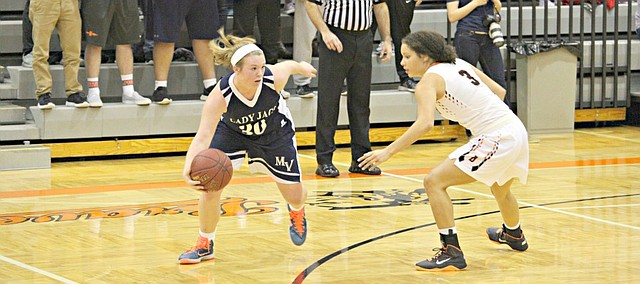 Bonner Springs — Mill Valley wasn't perfect on Friday night against Bonner Springs. Far from it. But when the game was in its closing moments, the Lady Jaguars still had a fighting chance.
Trailing 47-44 with 14.3 seconds remaining, senior forward Catie Kaifes launched a 3-pointer from the top of the arc. Her shot, however, glanced off the right side of the rim and hit the floor as time expired.
Game over.
"We didn't play well enough to win in the first half," Mill Valley coach John McFall said. "We got what we deserved. They were able to do whatever they wanted, and offensively, we decided that we were going to shoot a bunch of treys. Defensively, we were passive. They are a well-coached team, and they found some things that were hurting us."
Claire Kaifes led the way for Mill Valley, scoring 14 of her game-high 20 points in the first half on the strength of four 3-pointers. Catie Kaifes finished with 16 points, eight of which came in the final quarter as the Lady Jaguars rallied from a nine-point deficit.
Tanya Hernandez and Julianne Jackson each scored a team-high 14 points for the Lady Braves.
After the first quarter ended in 14-14 tie, Bonner Springs started to gain some breathing room in the second. The Lady Braves took a 28-22 lead at the 2:30 mark on a 3-pointer from Hernandez and later walked into the locker room with a 34-27 halftime advantage.
The defenses prevailed in the third quarter, as the teams combined for just four total points. After the first three minutes of the period went by without a basket, Jackson finally broke the drought with a jumper at the 4:50 mark.
One free throw from each team accounted for the only other points, and the Lady Braves held a 37-28 lead entering the final quarter.
Mill Valley started to chip away at the deficit in the fourth, and Catie Kaifes' layup with 4:47 remaining pulled her team within two at 41-39. The Lady Jaguars wouldn't get closer than that the rest of the game, however.
Trailing 46-41 with 27 seconds remaining, Claire Kaifes came to the rescue with a yet another 3-pointer. Jackson then knocked down a free throw to make it a 3-point game just before Catie Kaifes' last-second attempt to send the contest to overtime came up empty.
Bonner Springs 47, Mill Valley 44
Mill Valley: 14 - 13 - 1 - 16 — 44
Bonner Springs: 14 - 20 - 3 - 10 — 47
Mill Valley: Claire Kaifes 20 points, Caite Kaifes 16, Trinity Knapp 2, Courtney Carlson 2, Evan Zars 2, Ashlyn Hendrix 2.
Bonner Springs: Julianne Jackson 14 points, Tanya Hernandez 14, Miyah Hightower 9, Kennedy Bacon 7, Shaunie Lanning 4.
More like this story