Jaguars suffer last-minute loss against Braves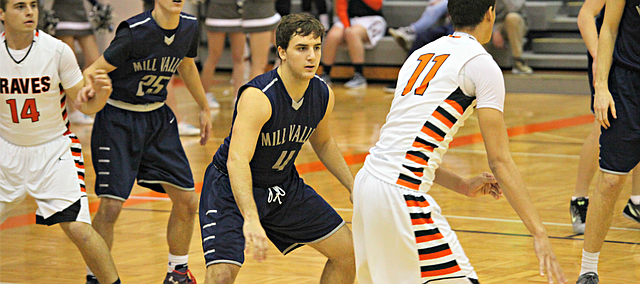 Bonner Springs — Cooper Kaifes simply could not be stopped. As Mill Valley vigorously tried to rally from a last-minute deficit against Bonner Springs on Friday, the Jaguars' super sophomore went off, scoring eight points in a span of 16 seconds.
But while gutsy, his performance wasn't quite enough to save his team from demise. With 1.7 seconds on the clock and the game tied at 65 after two free throws from Kaifes, Bonner Springs guard Antonio Roark drove the lane, was fouled and knocked down the game-winners from the charity stripe.
The Braves prevailed, 67-65.
For Mill Valley, it marked the second loss of the week. The Jaguars also left the gym empty-handed last Tuesday, falling to Basehor-Linwood after getting blown out in the fourth quarter of what was previously a closely-contested game.
"Can't look at our effort and say we didn't give effort," Mill Valley coach Michael Bennett said. "I thought we competed, and I thought we did a lot of good things.
"We didn't shoot it particularly well in the first half from the perimeter. That's something that we usually hang our hat on a little bit. … Obviously, they were able to seal it off with free throws, but I like our fight. We didn't give up."
Clayton Holmberg led the way for the Jaguars with a team-high 16 points. Kaifes finished with 15, including 13 in the fourth quarter alone. Roark scored a game-high 20 points for Bonner Springs, and DeVante McGee added 14.
Both teams battled closely in the first quarter, and the Braves held a one-point lead at 18-17 when the dust settled. Mill Valley's Logan Koch put on a show in the opening period with 10 points, including a pair of acrobatic and-1s.
"We rely on him to score a little bit and distribute the basketball," Bennett said of Koch. "It's two-sided, and he's got to do a little bit of both. We need him to attack and be Logan and do what he's always done."
The Jaguars started to seize some momentum in the second quarter, taking a 28-22 lead on a pair of free throws from Derrell McLemore with 3:29 to play.
Mill Valley was able to retain that margin through the rest of the half and walked into the locker room with a 35-30 advantage. Holmberg scored eight points in the second period, all of which came from the free-throw line. The Jaguars shot 17 free throws in the quarter and made all but three of them.
After a relatively quiet third quarter that saw only 19 points scored between the two teams, Mill Valley had a six-point lead at 45-39 entering the final frame.
Bonner Springs slowly started to chip away at the deficit and pulled within one point of the lead at 49-48 on a jumper from Roark with 4:19 to play.
The Braves finally tied the contest at 54 a couple of minutes later on a layup from Aaron McGee and took their first lead of the second half at the 1:42 mark when he knocked down a pair of free throws.
Bonner Springs pushed the lead all the way up to five points at 62-57 with just 36 seconds remaining before Kaifes' heroics gave the Jaguars a fighting chance.
"Cooper is one of those kids that doesn't mind a big stage," Bennett said. "He doesn't mind a big situation. I think he showed that last year when he was playing in the state tournament, scoring 24 points. Cooper's not afraid to take tough shots, and we really like our chances when he does shoot it."