Jaguars explode in third quarter to beat Piper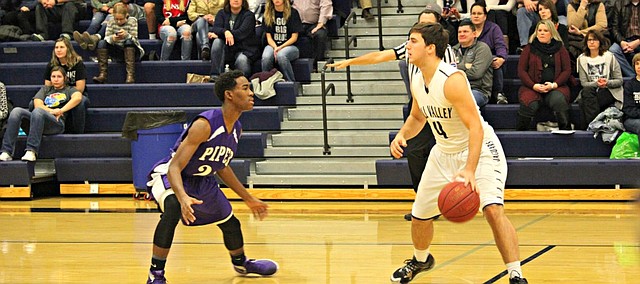 Shawnee — After a slumbersome first half between Mill Valley and Piper on Tuesday night, the third quarter ultimately made the difference as the Jaguars woke up and cruised to a 57-39 victory over their Kaw Valley League rivals.
Mill Valley (4-3) outscored the Pirates 19-4 in the third period and sat its starters for most of the fourth. It was a much-needed victory for the Jaguars, who were coming off back-to-back losses to Basehor-Linwood and Bonner Springs.
"It was a really sleepy first half," Mill Valley coach Michael Bennett said. "We were kind of just going through the motions a little bit. Offensively, we weren't really clicking, and defensively, we were OK. We rebounded pretty well, which made it a little better on us. Third quarter, the intensity was a little bit better. We got out and ran a little bit and were able to score some layups, hit a couple jumps shots, and the lead grew."
Cooper Kaifes led the way for the Jaguars with 12 points. Kasey Conklin finished with 10, and Derrell McLemore added eight. Jalen Taylor scored a team-high 10 points for Piper.
Conklin got going early and often in the first quarter, scoring seven points on three layups and a free throw. But despite his efforts, Mill Valley had just a one-point lead at 10-9 after eight minutes of play.
Kaifes took the reigns in the second period with seven points, including back-to-back 3-pointers with less than three minutes to play. Those baskets helped give the Jaguars a 20-15 halftime advantage.
Mill Valley really revved up the engine in the third. After giving up the opening basket to Piper at the 7:38 mark, the Jaguars went on a 16-0 run that included 3-pointers from Kaifes and Conklin and ended in a 36-17 lead.
Tyler Grauer put the finishing touches on the quarter, nailing a 3-pointer from the top of the arc with just four seconds to play.
"It was a good quarter for us," Bennett said. "It kind of seperated us. It had to be the intensity. If we didn't have the intensity, I don't know what would have happened. But we just needed some energy. First half was not what we expected."
Mill Valley entered the final frame with a 20-point lead and was able to use its reserves to close out the game. Ethan Lane provided most of the highlights and finished with six points.
Piper won the fourth quarter 20-18, but that hardly mattered since the Jaguars limited them to single-digits in each of the first three periods.
"We were just trying to protect the paint and really limit the type of paint touches they got, whether it be post or off cuts and dives and dribble penetration," Bennett said. "I thought we did a good job there, and it really forced them to take contested shots. The best part about it was that we rebounded. We did some good things."
Mill Valley 57, Piper 39
Piper 9 - 6 - 4 - 20 — 39
Mill Valley 10 - 10 - 19 - 18 — 57
Piper: Johnson 2 points, Covington 5, Letcher 2, Goodpastor 1, Taylor 11, Hall 7, Rogers 4, Vann 2, Beebe 3, Marquardt 2.
Mill Valley: Lane 6 points, Koch 6, Montgomery 2, Conklin 10, Kaifes 12, McLemore 8, Widmer 2, Valencia 2, Holmberg 6, Grauer 3.