Malone scores 24 to lead Piper past Lady Jags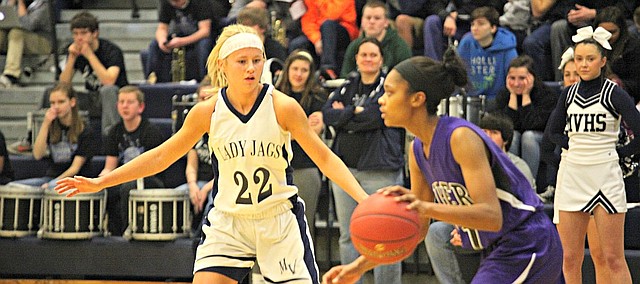 Shawnee — Mill Valley had its chances against undefeated Piper on Tuesday night, never trailing by more than 10 at any point in the game. The Lady Pirates, however, were able to hold on in the fourth quarter to earn a 50-45 Kaw Valley League victory.
Catie Kaifes led the charge for the Lady Jaguars (3-4) with a team-high 19 points, and teammate Ashlyn Hendrix finished with 13. Jessica Wayne poured in a game-high 24 points to lead the way for Piper, and Ryan Cobbins added 10.
The Lady Jaguars executed well in the first quarter and grabbed a 14-9 lead on a layup by Trinity Knapp with 51 seconds to play. But that's when something clicked with the Lady Pirates. Piper ended the opening period with layup by Malone, the first basket of a 9-0 run that consumed half of the second quarter.
When the dust settled, the Lady Pirates had a 22-17 halftime lead, and they never looked back.
"I was very pleased with about the first six minutes," Mill Valley coach John McFall said. "They're extremely athletic and weren't as aggressive tonight as I've seen them, and maybe that was attributed to our ball-handling. I thought we did an awful nice job of moving the ball and getting stops, and then we went stagnant."
After holding the Lady Jaguars at arm's length throughout the third quarter, Piper finished the period with an and-1 layup by Malone for its largest lead of the night at 40-30.
The Lady Pirates could never quite pull away, however, and were outscored by Mill Valley 15-10 in the final frame. Kaifes' 3-pointer off the glass right before the final buzzer made it a five-point game and proved that the Lady Jaguars had at least stayed within striking distance.
"That's important in any game," McFall said. "One of the things that I preach is, 'Hang tough, hang tough, hang tough," and be in a position to win with four minutes to go in the game. And we were, but we just could never get over the hump."
Piper 50, Mill Valley 45
Piper 11 - 11 - 18 - 10 — 50
Mill Valley 14 - 3 - 13 - 15 — 45
Piper: Malone 24 points, Cobbins 10, Owens 2, Morrow 6, Leslie 4, Sibert 2.
Mill Valley: Ca. Kaifes 19 points, Hendrix 13, Knapp 3, Cl. Kaifes 3, Zars 6.