SMNW

girls basketball coasts past

SM

South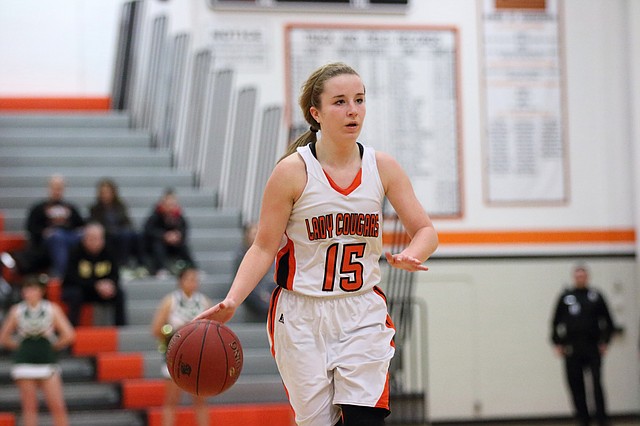 Shawnee — Shawnee Mission Northwest girls basketball coach Tyler Stewart was curious to see how his team would respond after back-to-back close losses last week, and the Cougars did not disappoint.
The Cougars, ranked No. 3 in Class 6A, answered their coach's call with a 73-39 win Friday over Shawnee Mission South and a 57-30 victory Tuesday against Olathe North.
"We had a couple of close ones that kind of got away, and it was really big for us to come back out and regain some of that confidence and kind of get rolling here as we see a tough Topeka team and the mid-season tournament," SMNW coach Tyler Stewart said.
SMNW senior Brenni Rose led all scorers with 17 points and also added two rebounds, two assists and two steals against the Raiders (2-7). Rose nailed both of her attempts from long distance, and hit four of her six shots from inside the arch. She was also a perfect 3-for-3 from the charity stripe.
"With those losses last week, we just weren't all in chemistry," Rose said. "We're getting back to that, and everyone is playing good. So hopefully that carries into next week and the rest of the season."
Rose was one of three Cougars in double figures, as Jordann Nachbar and Shelbie McLain added 13 and 11 points, respectively. McLain knocked down three of the Cougars' 10 3-pointers, as SMNW took full advantage SM South's 2-3 zone in the first half.
"Shelbie can really shoot the ball," Stewart said. "When they're in a zone, I know her and several others that are excited because they can shoot it."
When the Cougars weren't hitting outside shots, Nachbar was usually there to grab the rebound and put it back in for two. Nachbar was 5-for-9 from the field and pulled down a team-high five boards.
"It was a team effort," Nachbar said, deflecting the credit to her teammates. "I got a lot of passes from Brenni and just got to get 'em."
Nachbar sparked a 9-0 run to begin the second quarter with a traditional 3-point play. Emmalee Rose and Danielle Rehor followed with 3-pointers as SMNW went on to outscore SM South, 24-8, in the second quarter.
The Cougars (7-2 overall, 2-2 in Sunflower League play) will be back in action at 7 p.m. Friday against Topeka at SMNW.
SMNW (73)
Gena Ojeda 0-3 0-0 0, Carson Vielhauer 1-2 0-1 3, Shelbie McLain 3-5 2-2 11, Emmalee Rose 1-6 2-2 5, Melissa Schmidt 3-5 1-1 8, Jordann Nachbar 5-9 3-3 13, Sarah Peterson 2-3 0-1 4, Danielle Rehor 2-4 0-0 6, Brenni Rose 7-9 3-3 17, Hannah Black 0-0 0-0 0, Megan Hanson 0-1 0-0 0, Megan Nugent 0-0 0-2 0, Rachel Seibold 2-2 2-4 6, Abby Winter 0-0 0-0 0. Totals 25-49 13-17 73.
SMS (39)
Karoline Shelton 3-7 1-2 8, Robyn MacDonald 0-1 2-2 2, Madi McAvoy 2-9 6-8 12, Clara Sitas 4-6 0-0 9, Meredith Bunker 1-6 1-2 3, Gabi Green 1-2 0-0 3, Rakeya Martin 0-1 0-0 0, Carolyn Schneck 0-0 0-0 0, Lauren Anderson 0-0 0-0 0, Abby Gerber 1-3 0-0 2. Totals 12-35 10-14 39.
SMNW 14 24 19 16 – 73
SMS 9 8 16 6 – 39
Three-point goals: SMNW 10-21 (Shelbie McLain 3, Brenni Rose 2, Danielle Rehor 2, Emmalee Rose, Melissa Schmidt, Carson Vielhauer); SMS 5-15 (Madi McAvoy 2, Clara Sitas, Gabi Green, Karoline Shelton). Turnovers: SMNW 6, SMS 10. Fouled out: Madi McAvoy, SMS.