Shawnee family alerted to house fire by alarm escapes without injury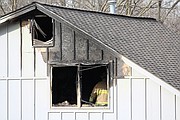 A smoke alarm alerted a Shawnee family to a fire in their home on Monday afternoon and allowed them time to escape the house without injuries.
The home owners in the 7600 block of Richards Drive said that they heard the fire alarm just before 1 p.m. Monday. They were in a downstairs room when the alarm went off, they said, and were able to get outside with their dogs to see that their upstairs office had fire and smoke pouring out of a window.
Shawnee Fire Department crews arrived and quickly extinguished the fire in the bitter cold. The fire was kept to the upstairs room but smoke damage was present throughout the home, according to Shawnee Fire Marshal Corey Sands.
Shawnee Fire Investigators determined that the fire was caused by an extension cord in the upstairs bedroom. Damage estimates are at $50,000.
"This fire demonstrates the importance of working smoke alarms and the dangers of using extension cords for permanent wiring," Sands said. Lenexa and Overland Park Fire Departments were also on-scene to provide assistance.
Operation 100 News contributed to this report.
More like this story