Polar Plunge for Special Olympics set for Jan. 30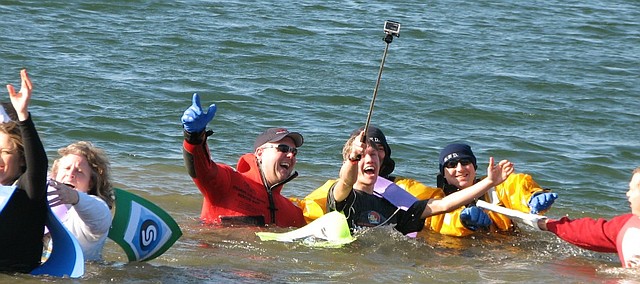 Those willing to brave some brief shivers are preparing to raise money and awareness for Special Olympics of Kansas at the 2016 Polar Plunge.
The event, being held at the Shawnee Mission Park lake, raises funds for local Special Olympics Programs and raises awareness about the power of Special Olympics. Participants form fundraising teams and jump in the frigid lake water during the captivating event. Various Shawnee teams participate in the event, including the Shawnee Police Department and the Shawnee Fire Department. As of this week, the event has raised about $45,000 for Special Olympics of Kansas.
This year's event will feature some new changes. The plunge time will be at 11 a.m. and Special Olympics of Kansas hopes to have Special Olympic athletes help serve free pizza to plungers and spectators.
Plungers and spectators will need to park at Theater in the Park. Buses will be provided to transport people to the beach.
Pre-plunge packet pick-up is from 3 to 8 p.m. on Friday, Jan. 29, at Johnny's Tavern in Olathe. Teams can also sign up online at www.plungeks.org.