Cougars clip Topeka High, 46-32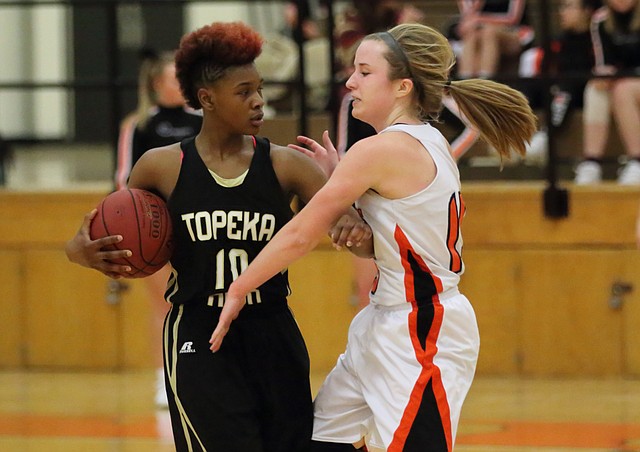 Shawnee Mission Northwest's girls basketball team spent some extra time in practice this past week working on a box-and-1 defense as the Cougars geared up for Friday's matchup against Adrianna Henderson and Topeka High.
The preparation paid off for the Cougars with a 46-32 win over the Trojans.
Northwest senior Shelbie McLain spent much of the night trailing Henderson in the box-and-1, and the Cougars also flashed a number of double teams at the Topeka High guard. Henderson – who averaged 23.8 points per game entering Friday's game – never found a rhythm as she was held to eight points, and turned the ball over seven times.
"She's a good player, so the defensive focal point this whole week has been to contain her, contain the dribble," McLain said. "It's kind of like a whole team effort. Danielle (Rehor) and I were on her the entire time, but the focus of the other girls was to contain her and make sure she didn't have the ball in her hands."
Henderson was 2-for-8 from the field, including 0-for-4 from 3-point range. The Trojans, who dropped to 4-5 on the season, shot 1-for-20 from the perimeter.
While the Cougars keyed in on Henderson on the defensive end, they received another steady offensive performance from senior Brenni Rose. The Drake University commit recorded 20 points and six rebounds, and chipped in defensively with three steals.
"I could make a couple more easy layups, but it was an all-around good team win," Rose said. "They find me when I'm open, and they run the floor well for assists and stuff like that."
Emmalee Rose joined her sister in double figures with 11 points.
Northwest coach Tyler Stewart was pleased with his team's effort on both ends of the floor.
"I thought it was great. I thought Sarah (Peterson) played phenomenal," Stewart said. "She took a charge, and we've been really on her to step up and take a couple of those. I was so proud of what she did there, as well as all the other kids."
Northwest (8-2 overall, ranked No. 4 in Class 6A) have won four straight games heading into the Mid America Classic tournament Thursday-Saturday in McPherson.
"We're in a good spot right now," Brenni Rose said. "Our chemistry is good right, and we're all flowing well. We're running the floor and we're in good shape, so I'm excited for this next week."
The Cougars will take on Wichita Northwest to open the tournament at 6 p.m. Thursday.
"They're athletic and do some really good things on the defensive and offensive end," Stewart said of Wichita Northwest. "It's going to be a grind. We got in that McPherson tournament because we wanted that state feel of Thursday-Friday-Saturday, and we're going to get it and so who is mentally and physically tough enough."
SMNW (46)
Gena Ojeda 0-1 0-0 0, Carson Vielhauer 0-0 0-0 0, Shelbie McLain 2-7 0-0 5, Emmalee Rose 4-9 2-4 11, Jordann Nachbar 4-5 0-1 8, Sarah Peterson 0-1 2-7 2, Danielle Rehor 0-3 0-0 0, Brenni Rose 6-17 6-6 20. Totals 9-22 10-18 46.
Topeka (32)
Adrianna Henderson 2-8 4-4 8, Erica Birch 5-9 1-2 11, Corieann Emanuel 1-3 0-0 3, Ke'Shawn Wright 2-8 0-0 4, Ida Pieschl 1-7 0-0 2, Rylee Burris 0-6 0-0 0, Jhailyn Johnson 0-0 0-0 0, Precious Posey 0-2 0-0 0, Jasmine Wheeler 0-2 0-0 0, Jaryn Benning 1-2 0-0 2, Jhailyn Johnson 1-1 0-0 2. Totals 13-46 5-6 32.
SMNW 15 10 15 6 – 46
Topeka 9 6 8 9 – 32
Three-point goals: SMNW 4-14 (B. Rose 2, E. Rose, McLain); Topeka 1-20 (Emanuel). Turnovers: SMNW 9, Topeka 13.
More like this story