Kansas fantasy writer's penchant for the unexpected appeals to international audiences
KU

's Kij Johnson expects to publish her next novella this year
Lawrence — Especially now, in a world where people can get replacement hearts and some cars even drive themselves, there's a narrow line between fantasy and reality, says Kij Johnson.
Johnson likes to waver over it, experiment with the expectations of her genre, and never write the same thing twice. She aims to take people away — but not necessarily completely.
"Fiction is manipulative," she said. "Fiction is trying to craft an experience for somebody that they don't know they want, but find out they want in the middle."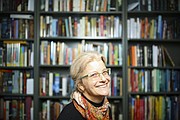 Johnson, 56, is an assistant professor of creative writing at KU whose science-fiction fantasy work continues to reach more international audiences.
She's had work released in numerous foreign languages over the years, she said, but most recently had a collection of stories released in Japanese and — to her surprise — struck a deal with a prominent Turkish publisher to translate and publish her work into that language.
In March, she's traveling to Reykjavík, Iceland — a UNESCO City of Literature, known for its book culture and events — to do a reading of her work and collaborate with other science fiction writers there.
Johnson, who also is associate director of KU's Gunn Center for the Study of Science Fiction, said many see American science fiction as "the heart of the field," according to a KU announcement about her latest translations.
She also credits the Gunn Center's recent efforts to create an international consortium for helping to increase worldwide interest in the genre, according to KU.
Named for James Gunn, KU emeritus professor of English and one of the first sci-fi scholars in the world, the center has one of the largest and most diverse sci-fi programs in the world, including an annual summer program of workshops on campus for writers and educators.
Johnson herself thanks the Gunn center for nudging her into academia just a few years ago.
Her career had included working in book publishing, as an editor for Dark Horse Comics and as a creative director at Wizards of the Coast (the game publisher known for Dungeons and Dragons and Magic: The Gathering).
"I have had all the queen-geek jobs," she said.
Johnson wrote on the side of her day jobs since she was 25 — sending out a lot of stories, getting rejected, feeling depressed, trying again and making her first short story sale in 1987. Her first novel, "The Fox Woman," was published in 2000.
In 1994, she won the Gunn Center's Theodore Sturgeon Memorial Award for the best short science fiction of the year. After that, she returned to Lawrence every summer to assist and eventually teach her own Gunn Center workshops.
At some point, she said, "I realized that I was living for the workshops ... the one thing besides writing that I loved was teaching those workshops."
Johnson, who decades earlier got her bachelor's degree from St. Olaf College in Northfield, Minn., went to North Carolina State University for graduate school and got hired at KU after graduation.
Her "biggest" book so far, Johnson said, has been "At the Mouth of the River of Bees," a collection of short stories published in 2012.
Her next project, a novella titled "The Dream-quest of Vellitt Boe," is due out this year.
Whether it's the story about a divorcee writing a story the reader never gets to read, a romantic fantasy about a shape-changing fox who falls in love with a human, or a man using 17th century methods to build a bridge across a chasm in a world much like ours but cloaked in mist, Johnson aims for the unexpected.
Johnson said fiction allows her to "exactly craft" scenarios in which readers — even if they become aghast, or afraid — stay with her to experience something they didn't see coming.
"What I hope is that I'll change them in some fashion," she said.