Shawnee Mission North grad Funky Mama still singing with feeling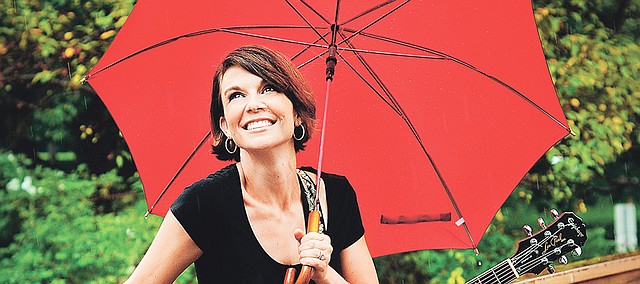 If you have young children, are a regular attendee of youth-friendly events and locales, and live in the Kansas City area, there's a good chance you've heard of Funky Mama or seen her in action.
She plays the guitar and piano. She has energy that's contagious for days. She writes and sings her own rock-and-roll numbers about, among other topics, the guesswork involved in rock-paper-scissors or the delicious freedom of visiting Grandma's house. She dances to her songs and encourages young audience members to do the same.
"I write things that are fun, that kids I know will dance to, or maybe their parents might get a kick out of. There's an element of novelty to it, and it's fun," said Krista Tatschl Eyler, the woman behind the Funky Mama name.
As one of the only women involved in Kansas City's family music scene, Tatschl Eyler is also a bit of a rarity. For fun, she used to make up and sing her own songs to her young nephew and firstborn son, she said, and found herself longing to perform for a wider audience of youths in the way other Kansas City-based family-friendly performers such as Jim Cosgrove, aka Mr. Stinky Feet, and Doo-Dad Mike had done before. What she found the scene lacked, however, was a female voice.
"So, I thought, well, I guess there's room for a funky mama," the 1994 Shawnee Mission North graduate said.
Tatschl Eyler began providing that voice in 2005 and has since made a name and career for herself in the Kansas City area, and even well beyond it. She has two albums to her credit and has performed across the Midwest. She has written and directed her own play, called "Moo Juice: The Musical." In 2007, while nine months pregnant with her youngest son, Charlie, Tatschl Eyler got the chance to perform on the lawn of the White House for the annual Easter Egg Roll, an experience she still years later describes as "surreal."
"I just gave thanks for that moment. I knew it wouldn't happen again. It was one of those times where you're like, just take it in and enjoy it. It was so much fun. I got to meet Laura Bush outside of a porta-potty," she said with a laugh. "So at least I got to thank my hostess."
Early beginnings
Funky Mama wasn't just born out of a whim. Tatschl Eyler is a gifted singer and musical theater performer whose acting chops were first developed in her sophomore year at SM North. Though music has always been a passion of hers, she was also heavily into soccer at the time. But after auditioning for and landing a part in "How to Eat Like a Child," a small SM North musical directed by longtime former SM North theater teacher Maureen Davis, "I was hooked," Tatschl Eyler recalls.
"When you find a place that it feels very much like home in your spirit, you don't want to leave it," she said. "I felt like this is where I want to be. I probably spent the majority of my sophomore year in the theater department."
Tatschl Eyler also made a lasting impression on Davis, who recalled her being "just darling" in that first musical.
"Just peppy and all smiles and smart and talented and kind," Davis said of her former student. "I know whatever she chose to do, whatever path she took, she would find joy and success."
Tatschl Eyler took on many other theatrical roles during her time as a student at SM North, and has since become a frequent performer at such venues as Theatre in the Park and the Chestnut Fine Arts Center, a professional theater in Olathe. As her first career path, however, she ultimately chose broadcast journalism.
After earning her master's degree in journalism from Kansas University, Tatschl Eyler took on a job as an on-air reporter for KMBC-TV Channel 9 News. During her five years at the station, she earned a regional Emmy nomination for a story on a 2000 car accident that claimed the lives of two Park University women's soccer players and a coach.
"I've had a long and twisty professional career," said Tatschl Eyler, who later taught journalism at Johnson County Community College and, along with her Funky Mama work, is currently an assistant director and music teacher at Colonial Preschool in Kansas City, Mo. "I consider that a blessing, because each one has led me to learn something that has helped me in the next place."
More than just Funky Mama
As a wife and real-life mama of two boys, Tatschl Eyler places a lot of importance on her family. She rarely travels long distances for Funky Mama performances anymore and tends to only perform during the summers or other special occasions. She hasn't done any musical theater, either, since 2010. She says she likes to be home on weekends and doesn't want to miss out on those important growing-up years and milestones with her sons, who are now 11 and 8.
"I try to put my family first," she said. "I think I play a very important role in this family as a mom, and I think as most moms would say, we kind of stabilize emotions in the house. And with two high-energy boys, they need me. And just being with my family's important to me, too."
Still, Tatschl Eyler gets a lot of joy out of the music she creates and the many children outside of her family she has a chance to work with and inspire as Funky Mama.
"I think I like connecting with kids on a musical level, which kind of opens up the door to engaging their creative sides. My creativity engaging their creativity," she said. "Because I always encourage them to dance and to move and to create with their bodies, and not just sit there. … They will engage with you in a playful, fun way, and I love that. I love being around children."
When Tatschl Eyler does step back onto that stage, which she is scheduled to do again beginning in June, "look out," said Cosgrove, who has performed and collaborated with her on a number of occasions.
"She's great with the kids. She's a natural communicator with all humans. With little humans, she's magic," he said. "I've got to say, too, when she came on the family music scene in Kansas City, she brought a really unique set of skills that included her background in musical theater, her talent as a musician and her instincts as a mother. You combine all of that with her amazing, colorful, soulful voice … it's an amazing package."
In the future, Tatschl Eyler said she can see herself getting back into musical theater, "directing more than being on stage."
And what's on the next horizon for Funky Mama?
"I don't know. That's a good question. Anything is possible," she said. "I'm always open to new opportunities for writing music. Last year, I released my 10-year anniversary CD. I never thought I'd have 10 years doing this. So, into the new decade I guess we go."