Six third-graders gathered around the cafeteria table, watching as one magnet pushed another across the table Friday at Ray Marsh Elementary.
Aubri Croom was quick to explain why this was possible, even though the magnets weren't touching.
"Because they aren't the opposite sides, they're north to north or south to south," she said.
Aubri was describing the concept of like poles of two magnets repelling each other, whereas opposite poles attract, as part of a Science Enrichment lesson provided by the school's PTA. Now in their 10th year, the Ray Marsh PTA members say they are hoping to get the special science program into all other elementary schools that feed into Shawnee Mission Northwest High School.
"We've had feedback from the high school — they can tell when kids went to Ray Marsh because of our science program," said Sophia Theodore, coordinator of the Science Enrichment program.
At the same time, the PTA is working to spearhead another project to reach a district-wide goal: on Jan. 11, the PTA's Healthy Kids Healthy Planet committee started a composting and recycling program in the cafeteria.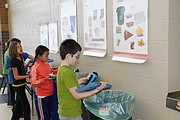 The Science Enrichment program started about the same time the school moved from its original building into its current building in 2006.
The PTA created science lessons that correspond with the curriculum for each grade level using resources provided by the Carolina Biological Supply Company — in addition to lessons such as the magnetism lesson Friday , students get to dissect frogs, rats, sharks and a pig heart and lungs at various grade levels. Parent volunteers from the corresponding grade level come in an hour before the program to learn all they know in order to teach a group of five or six students.
Kindergarten through second grades get one science enrichment lesson per school year, while third through sixth grades get two. The result is that a Science Enrichment lesson is taught two Fridays each month.
Principal Kasey Weishaar is new to the school this year and has been impressed with the enrichment lessons.
"It's a great opportunity for our community to get involved in a project at school, and the kids get to interact and learn from someone other than their teacher, which I think is beneficial," he said.
While PTA organizers say they hope to get the program spread to other schools — they're in the process with Rhein Benninghoven's PTA — they're also spearheading a Food Waste Recovery project during lunch that has students move through a several step process to recycle and compost their lunch leftovers.
Susan Scheffler, part of the PTA's Healthy Kids Healthy Planet committee, said students already were recycling their forks and spoons, and the PTA had been talking about starting a composting program for the past couple of years in response to the district's goal to reduce lunchtime waste.
"So we said, we're willing to do it if you want to do it now," Scheffler said.
Working with Johnson County Environmental Health and the district, the PTA got the program started Jan. 11.
With parent volunteers on hand for the first couple of weeks, students recycle their spoons and forks, dump leftover liquids into a bucket, put plastic bottles and aluminum cans into their own recycling container, and compost food waste and cardboard before putting unrecyclable items into the trash.
"Some kids got it down day two, some kids are still kind of in question, but they're actually doing really well," Scheffler said.
The PTA has arranged for Missouri Organic Recycling to collect the composted material three days a week.
Cafeteria staff members are not composting yet, but Scheffler said they hope to do that next school year. They also hope to organize terracycling to recycle chip bags and some other items currently going in the trash.
"This is such a big step for them, we were talking about how maybe next year, we can initiate that," Scheffler said.
Weishaar said the students deferred 68 percent of the school's waste from the landfill in its first week of the program, and he expects that as they continue, they will keep 70 percent to 90 percent of their waste from heading to the landfill weekly through recycling and composting.
"Our PTA has done a great job being here every day with volunteers, and the kids are starting to take ownership of it — we're just training them and getting them to understand why we're doing it," he said.