SM

South edges

SM

North swimming, 93-77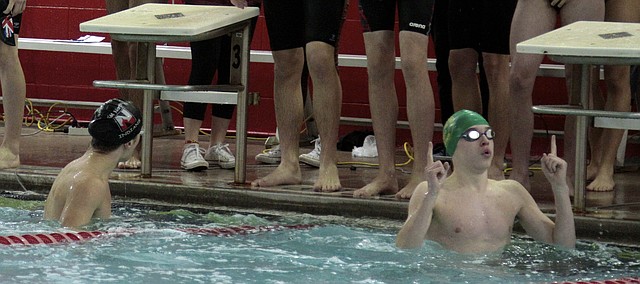 Overland Park — With Shawnee Mission South leading SM North's boys swim team, 62-48, with four events remaining, Indians coach Cody Fothergill felt confident that his squad could get right back into contention with strong races from his top two 200 freestyle relays squads, Tuesday.
Instead, the Raiders were able to increase their advantage to 20 points after their top two relay teams took first and third place. South's Noah Birkel raised both his hands in celebration after holding off North senior Keighan Miller by .58 seconds to win the event, and the Indians' 'B' team was disqualified.
While Fothergill would have liked to see Miller and the five other SM North seniors earn a head-to-head victory over the Raiders in their final home competition, he still had nothing but positive things to say about them.
"First of all they were quality swimmers, but on top of that – fantastic guys," Fothergill said. "I've gotten to know them really well and treasure those coach-to-swimmer relationships. I'd be lying if I didn't say they'd be missed a ton next year."
Although Miller came up just short in anchoring the 200 freestyle relay, his performance in the 200 medley relay to begin the meet was one he and his senior teammates won't soon forget. Miller was joined by Charlie Kaifes, Jon McMillin and Juan Rivera in an all-senior relay that took first place with a time of 1:47.52.
"It was really special. We've been waiting since freshmen year like, 'Wait 'til we're seniors, and we can be on this together,'" Kaifes said. "It's finally the realization. It was a blast."
Kaifes added individual victories in the 50 freestyle and 100 backstroke, but was primarily encouraged that North's relay teams are back to full strength with McMillin and Rivera returning to action. Rivera had been sidelined all season until returning to practice Monday, and Kaifes said that he has not missed a beat.
"I'm so glad to have him back," Kaifes said. "For him to be as fast as he was today off one day of practice … I love that dude."
Normally after swimming the 50 free, Kaifes would have some time to catch his breath before his next event, but not on his Senior Day. Fothergill called for a break in the action to have each North senior – Kaifes, Miller, Rivera, McMillin, Justin Dukelow and Gressi Lopez – swim the length of the pool before greeting their parents with flowers during a mid-meet ceremony.
"None of us were super close before high school, so coming together with them through swimming and then all four years of hard work and hard practice, it's finally paid," Miller said. "It's awesome."
The Indians will compete next Friday at Mission Trail Middle School in a meet hosted by Olathe North, before turning their attention to the Sunflower League Championships Feb. 5-6 at California Trail Middle School.
Shawnee Mission South 93, Shawnee Mission North 77 Shawnee Mission North results
200 medley relay – 1. Charlie Kaifes, Julian Rivera, Keighan Miller, Jon McMillin, 1:47.52; 3. Carter Jacobson, Bob Collins, Gressi Lopez, James Cameron, 1:56.57; 6. Rowan Jones, Brice Conley, Jackson Drakulich, Mason Todd, 2:29.31.
200 freestyle – 3. Kaden Venard, 2:14.70; 4. Clayton McMillin, 2:15.36; 5. Justin Dukelow, 2:15.38; 7. Sam Thompson, 2:29.45; 8. Luke Grandgenett, 2:44.65; 9. Cale Chapman, 2:57.63.
200 IM – 3. Harrison Boldt, 2:32.35; 4. Antonio Gutierrez, 2:40.50; 5. Daniel Garren, 2:42.40; 6. Giancarlo Cardona, 2:56.71; Eric Kyle, 3:04.29; DQ. Nick Aragon.
50 freestyle – 1. Charlie Kaifes, 24.23; 2. Keighan Miller, 24.37; 5. Jon McMillin, 24.91; 7. Carter Jacobson, 25.17; 8. Julian Rivera, 25.47; 9. Gressi Lopez, 26.55; 12. Cameron Watson, 28.35; 13. Rowan Jones, 28.53; 15. Dylan Robertson, 28.88; 20. Brice Conley, 30.35; 21. Jackson Drakulich, 31.28; 22. Mason Todd, 31.62; 24. Noah Cramer, 35.66.
100 butterfly – 2. Kaden Venard, 1:02.61; 4. Gressi Lopez, 1:07.72; 6. Antonio Gutierrez, 1:14.21.
100 freestyle – 3. James Cameron, 57.86; 4. Clayton McMillin, 57.94; 5. Bob Collins, 58.97; 9. Rowan Jones, 1:05.67; 12. Giancarlo Cardona, 1:11.14; 15. Cale Chapman, 1:16.25; 16. Luke Grandgenett, 1:17.62; 19. Noah Cramer, 1:26.26; DQ. Sam Cramer.
500 freestyle – 3. Daniel Garren, 6:34.21; 4. Justin Dukelow, 6:40.22; 6. Sam Thompson, 7:11.20; 7. Nick Aragon, 7:37.28; 8. Eric Kyle, 7:38.47; 9. Jackson Drakulich, 7:47.57.
200 freestyle relay – 2. Julian Rivera, Jon McMillin, Clayton McMillin, Keighan Miller, 1:38.88; 4. Antonio Gutierrez, Cameron Watson, Brice Conley, Giancarlo Cardona, 2:01.13; 6. Rowan Jones, Cale Chapman, Noah Cramer, Luke Grandgenett, 2:19.68; DQ. Kaden Venard, Harrison Boldt, Gressi Lopez, James Cameron.
100 backstroke – 1. Charlie Kaifes, 59.00; 3. Carter Jacobson, 1:10.23; 4. Sam Cramer, 1:12.81; 7. Dylan Robertson, 1:18.65; 8. Mason Todd, 1:28.97.
100 breaststroke – 2. Bob Collins, 1:11.86; 3. Harrison Boldt, 1:13.37; 5. Cameron Watson, 1:23.42.
400 freestyle relay – 2. Keighan Miller, Jon McMillin, Carter Jacobson, Charlie Kaifes, 3:49.78; 3. Kaden Venard, James Cameron, Clayton McMillin, Justin Dukelow, 3:52.39; 6. Daniel Garren, Sam Cramer, Antonio Gutierrez, Nick Aragon, 4:22.55; 7. Eric Kyle, Giancarlo Cardona, Sam Thompson, Dylan Robertson, 4:36.67;