Wonderscope's new executive director looking forward to museum's future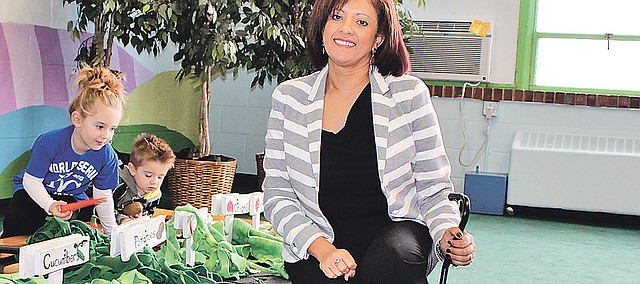 Roxanne Hill has always been passionate about children.
For the past seven years, she brought that passion to bear as vice president of development at The Children's Place. The Kansas City, Mo.,-based nonprofit that offers support for youths who have suffered abuse and trauma will forever be near and dear to Hill's heart, she says. But she is more than ready for the next adventure that awaits her as Wonderscope Children's Museum new executive director.
"It was hard to leave there, because I really believed in the mission and all the work that we do there," Hill said of The Children's Place while sitting in her new office at Wonderscope. She officially started the position Jan. 4. "But this was such a great opportunity working in that same field of young children and just being able to make sure that I continue having an impact on their lives through the different experiences that they have here."
Originally from Sydney, Australia, Hill moved to Kansas City with her husband, Mike, 21 years ago. Mike Hill is from Kansas City but played football for the University of Wyoming. The two met while he was in Roxanne's neck of the woods for an exhibition game.
Roxanne Hill has a strong background in nonprofit work, even outside of her time at The Children's Place. Before that, she was the director of fund development for Community Housing of Wyandotte County Inc. And prior to that position, she was fund development manager at The Kansas City Neighborhood Alliance.
Jill Jolicoeur, president of the Wonderscope board of directors, said Hill's experience with fundraising was a key reason she was offered the job at Wonderscope..
"She has a background in fund development, which is going to be huge to us moving forward," Jolicoeur said. "Our financial resources have remained pretty stagnant. If we want to reboot the vision, than we need to see a huge investment of funds, both private and public, and that's definitely a skill set" that Hill brings to the table.
That rebooting of the museum's vision is a main goal of Hill's, who says she wants to "breathe some fresh air and liven up and really get the word out that we're still here, we've always been here."
Inspiring the Kansas City community to see that after more than 20 years of existence Wonderscope is still a valuable part of the area's makeup, especially for young children, has been a challenge of late, both Hill and Jolicoeur said.
"The organization has remained relevant but stagnant in a lot of ways for this community, and we're ready to reboot the vision for Wonderscope that was started back before the recession," Jolicoeur said. "And that is to build and expand the museum to serve a larger audience and a more regional audience, and fulfill our vision of becoming a great community attraction, a great regional attraction and a great community resource."
To that end, Hill said one plan in the works, if the necessary funds become available, would add an area for gross motor activity, such as climbing, running, jumping and swinging, to the museum's attractions. She said those activities can be really helpful for youths who struggle with issues such as Attention Deficit Hyperactivity Disorder or anxiety.
"(Those activities) help them as they develop physically, but also help their mind and their bodies calm down and work through whatever it is that they work through," she said.
The museum is also working on adding to its Farm to Market exhibit, which will ultimately consist of two separate areas: a farm section, which is currently open and consists of replicas of a barn, animals and a garden complete with fruits and vegetables kids can pick; and a market, which Hill said would be open and available for youths to "shop" for the farm's fruits and vegetables by the end of March.
Drawing more funds to help the museum "give a richer experience to children and families as they come through" is also a main goal of Hill's.
"We're a nonprofit, so we need support," she said. "We do some memberships, and we do charge admission, but we keep the prices low. We do need contributions, fundraising, contributions from foundations, earned revenue. We're looking for grant dollars everywhere we can."
With only four full-time staff members, Hill said, she would like to expand Wonderscope's small volunteer base as well.
"We've never had volunteers that are in every day," she said. "I would love someone in each room, every day, every week, two to three hours in the morning during the really busy times.
Working with Wonderscope's board of directors to turn these goals into realities is something Hill said she is looking forward to.
"(Wonderscope has a) great board of directors," she said. "They're very energetic and passionate about the mission. So with them, I'm hoping to bring back some life … and reinstill within these walls an opportunity for imagination and for play and just for creativity."
Hill replaces John Lowe, Wonderscope's former executive director, who resigned in 2015.