Shawnee Mission North Akalu brothers reflect on successful first year of distance running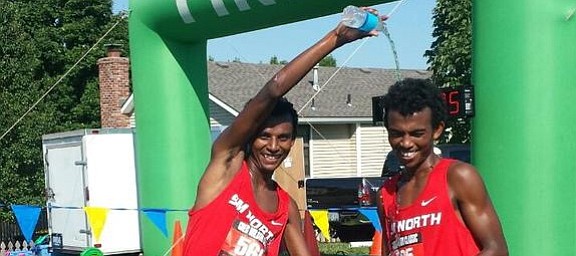 Overland Park — Nearly three months removed from winning the Kansas Class 6A boys cross country state championship, the accolades are still rolling in for Shawnee Mission North senior Belesti Akalu.
Akalu — who won the state meet with a 5,000-meter time of 15:43.4 — was named the Gatorade Kansas Boys Cross Country Runner of the Year on Jan. 22. Gatorade State Runner of the Year selections are not only picked based on the athlete's success on the course, but their academic performance and how they carry themselves outside of the classroom. The Iowa Central Community College signee has worked his way to a 3.34 weighted GPA.
"I think it's huge for somebody like him that's new to the sport. I think it's pretty remarkable for him to do what he did," North cross country coach Davidson said. "Basically, he's been a runner for seven months, so I think he had a lot of good things about him before he started running as far as academics. He has a lot of support at school, and the running is just one more thing that he is successful at."
Some pain, big gains
While the success has come at a rapid rate for Akalu, it came very close to not happening at all. Akalu did not delve into distance running until after his brother Alex — a junior at North — convinced him to join the school's track and field squad in March. Alex started conditioning with the Indians' distance runners last January, and Davidson liked what he saw out of the younger Akalu so much that he wanted Belesti to come aboard as well.
"Alex showed up about this time last year, about mid-January was like, 'I want to do track.' He started kind of running with us, and he was keeping up with our varsity guys after like two weeks, and he had never run," Davidson said. "He started track with us, and I was like, 'You need to get your brother out. You need to get your brother out.' He was actually the one that got Belesti to come out."
The times on track were tough at first for Belesti. His knees hurt after his first week of practice, and he needed a little more convincing from his father to stick with it.
Along with being in pain, Belesti was frustrated. The former C-team and junior varsity soccer player gave it his all in the first couple of track meets, but he couldn't quite hold on at the end of races to compete at the level he wanted to. Davidson preached patience and pace to the novice runner, and Belesti started to believe in the North coach.
"I was running, I just knew fast and slow. He told me that (in) running, we need endurance to keep moving," Belesti said. "Not fast, not slow, but just pace. Pace is important to running."
The more Belesti ran and learned how to pace himself, the more his times began to drop. The Ethiopian native went on to qualify for state and finish ninth in the 3,200-meter run — one place away from standing on the podium.
Making a statement
Belesti was pleased with how his track season culminated, but the ninth-place finish left him wanting more. As Belesti became more competitive, he began to enjoy logging more miles and picking up the pace in workouts. He came into the Indians' summer-running program with a new mindset than he had at the beginning of last track season.
"Last year, I didn't love practice for track in season, but I was qualified for (the) 2-mile. I learned to love competition with fast people," Belesti said. "I needed more practice."
The newly-dedicated Akalu steamrolled the competition on his way to the state cross country title. Belesti clocked in with a time of 15:19 to power North to a regional championship at Haskell Indian Nations University, which went on to be the top time of the season in Kansas.
Best of brothers and training partners
Belesti not only has Alex to thank for convincing him to try out distance running; he salutes his brother for being a solid training partner as well. Alex was a state medalist himself in cross country — placing seventh overall with a time of 16:29.9.
"Belesti is a great kid. We push each other," Alex said. "That's how it's beneficial — he pushes me, I push him."
The Akalu tandem will check off another distance-running endeavor when they compete in the 3,000-meter run of the Jayhawk High School Indoor Open on Sunday at Kansas University — their first indoor track meet.
While Belesti bested Alex at each cross country meet in the fall, Davidson said that it's not a given for the big brother to cross the line first based on how each has practiced.
"I know Belesti got a lot of the awards and the accolades this year, but if you look at practice, Alex was beating him or Alex was right there with him," Davidson said. "I would say they were kind of in it together."
Alex and Belesti both acknowledged that they have been thankful for the guidance they have received from Davidson since transferring to North in February 2014, but also said that their move to the states from Ethiopia has been made much easier with the help of the North student body and faculty. The two have each other as brothers, training partners and much more, but Belesti did note that he has more siblings than just Alex to count on for support.
"Just Alex and my team: Shawnee Mission North," Belesti said.