'

Rocking' Shawnee: Mayor, residents start citywide hide-and-seek project
If you find a rock in a Shawnee park painted with a flag, a rainbow, a sunflower or even a minion, it wasn't left behind by accident.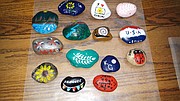 Turn the rock over, and you should find the phrase "Shawnee KS Rocks." The effort, started by Shawnee resident Beth Kornegay with the help of Mayor Michelle Distler, mimics similar community projects popping up around the country, in which volunteers paint rocks and hide them throughout the community in public places for other people to find and re-hide.
"I actually saw some info on this via Facebook," Kornegay said. "There are groups around Missouri in primarily small towns like Bolivar and Springfield and also farther away like Port Angeles, Wash. It's one of those crazy, simple ideas that has really just taken off."
A quick Google search turns up similar projects in Nevada, Iowa, and Hartford, Conn. It's been described as a large, ongoing Easter Egg hunt or game of hide and seek, and people seem to enjoy showing off their artistic skills by creating the rocks as much as they do hiding and finding them.
Kornegay said after reading the article about the group in Bolivar, she contacted Distler on July 1. They quickly agreed to start the project in Shawnee, setting up a Facebook group — which has more than 120 members after just a week — so people can share pictures of rocks they found or will hide. And the two painted nearly 100 rocks themselves.
Distler, as the 23rd Mayor of the city, painted 23 special "Mayor Rocks" with a symbol recognizing the past, present and future of Shawnee.
There are a few guidelines, posted on the Facebook page, for anyone who wants to participate. First, if you want to decorate a rock to hide, write "Shawnee KS Rocks" with a hashtag or Facebook symbol on the back. Those decorating rocks also are asked to make them "kid friendly" and make sure they are weatherproof.
Participants are encouraged to post pictures of both found rocks and rocks they will hide on the Facebook page. If someone finds a rock and wants to keep it, they are asked to paint a new one to replace it.
Rocks should only be hidden on public property, and just like with an Easter Egg hunt, participants don't necessarily have to hide the rocks completely.
"They aren't really 'hidden' per se, they are often out in plain sight," Kornegay said.
Kornegay said on Tuesday, she went out and hid about 40 rocks around the community, and she said it took less than 24 hours for four people to post in the Facebook group that they had found one.
"I drove by three locations this morning on my way to the office," she added Wednesday. "One was gone, but the other two were still out there in plain sight just waiting to be found."
Kornegay said she hopes more Shawnee residents will jump on board.
"The goal is to get members of the community painting rocks, searching for rocks and enjoying being outside with their families," she said.