Former Shawnee teammates remember black youth fatally shot by Alabama police officer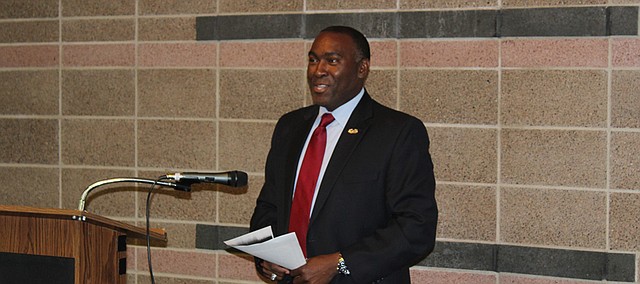 A class clown with an infectious smile.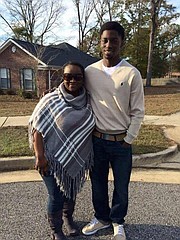 A happy kid who loved taking on his friends in driveway basketball and videogames. A respectful kid who always said "Yes, sir," to his coaches. A teammate and brother.
Friends gathered Thursday at the Shawnee Civic Centre to remember Michael Moore, a former Shawnee Mission Northwest High School student who was shot and killed by an Alabama police officer following a June 13 traffic stop. But for those who played on a team with Moore in grade, middle and the first years of high school, the goal was not to focus on how Moore died, but their memories of Moore growing up in Shawnee.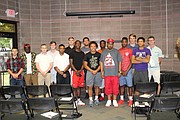 "I'm going to remember the Michael that I loved like a son," said Pastor Tim Jones, who coached Moore in seventh-grade football.
A group of about 40 friends gathered for a celebration of life, sharing memories of Moore during his years as a Shawnee resident. Also in attendance was Darrell Daugherty, Moore's stepfather, who raised Moore since he was 4. He thanked Moore's former class and teammates for coming together in his memory.
"I just hate to see you all here without him," Daugherty said. "It just isn't fair. I just want all of you all to keep doing what you're doing. You made him proud to call you all friends."
Moore's funeral service was held June 21 in Alabama, but Thursday's memorial was organized by Simmie Clincy, who coached Moore on a basketball team from fourth- to eighth-grade, and other team parents and coaches.
"We wanted to let you guys know how much you were loved when you were here, and how much we miss Michael already," Clincy said.
Clincy, an Army veteran who served in Iraq, remembered how he tried to instill some of the values he learned in the military in his players.
"As I always told the boys when I coached them: Get your butt out there and work hard," he said. "I said basketball, sports is just an analogy to life. What you put into it is what you get out of it. You do the right thing, right things will come to you. You surround yourself with positive people, positive things will come to you. You surround yourself with negative people, you get negativity."
He discussed how Moore had seemed to be putting himself on the right path and had planned to return to Kansas City about the time that he was killed.
"Nobody in their right mind would've ever thought that before Michael came home (this would happen)," Clincy said. "… I was excited to get him in the car and drive him straight to the Air Force recruitment — I know he was excited about joining the Air Force and making a better life for himself."
Daugherty said the family moved to Kansas to find a good community for Moore and his younger half brother to grow up in. He said they moved to Alabama shortly after Moore entered high school because they wanted to be closer to family.
It's a decision that Daugherty, who has now separated from Moore's mother and moved back to Kansas, says has caused him a lot of guilt.
"I'm mad that I left, because he had more family here than I thought he did in Alabama when it all came together," Daugherty said. "And it would've helped him out, his positive role models."
Reports about how Moore died are conflicting, and an investigation into his death continues. Alabama news organizations have reported that police say Moore, 19, was pulled over for driving a car reported as stolen and was asked to step out of the vehicle. Moore reportedly reached for a gun in his waistband, which prompted the officer to shoot Moore four times.
But other witnesses have said Moore wasn't armed, or that if he was, he didn't try to grab his gun. Police have admitted Moore's handgun wasn't recovered at the scene, saying it stayed in Moore's waistband as he was transported to the hospital and recovered there.
While they didn't discuss the case, Moore's friends Thursday said they just hoped for a thorough investigation.
"All we want is the truth to be told," Clincy said. "Out of all of this — who's right, who's wrong (doesn't matter), we just want the truth."