Well-versed Shawnee teens place second at national Bible quizzing tournament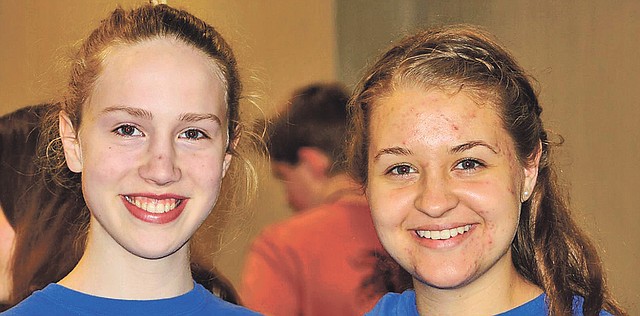 Though written thousands of years ago, the Christian Bible is still relevant today.
That's what Shawnee teens Jesse Gunkel and Anna Clements believe.
"The Bible is really relevant because the (Ten) Commandments don't change, you always need to love," said Gunkel, 18, a student at Johnson County Community College and LifeMission Church in Shawnee. "The Bible tells you to love. The biggest commandment is to love. The world is going to change, but you can always love, and that's always going to be relevant."
Five years ago, Gunkel's passion for the Bible led her to join up with an area church-based Bible quizzing group called Summit Bible Quizzing — though, as a matter of fact, it wasn't too far of a leap for Gunkel considering the family in which she grew up.
"My older sisters quizzed, so quizzing has been part of my life since I was about 5," she said.
Gunkel later encouraged her friend, Clements, 17, to join the group as well. Bible quizzers compete in tournaments across the country during a season that lasts from September to January each year. Each season, quizzers are tasked with memorizing one book out of the Bible, from which they will later be quizzed on at tournaments. The season is capped off by a national tournament, which Gunkel described as being organized much like the NCAA Tournament. Over the course of three days, more than 40 teams from across the country compete against each other, with the pool of teams getting smaller and smaller based on who wins and who loses. The final three teams left standing compete for first, second and third place on a stage in front of all the other teams, which is a pretty big deal for Bible quizzers. The final competition is even live-streamed for parents to watch online.
Earlier this year, for the first time, Gunkel and Clements found themselves on that stage at the national tournament held in April in Colorado Springs. Their team Moxie ultimately placed second out of 43 teams.
"That was my first time being onstage at nationals, so it was really cool," said Clements, who is homeschooled and will be a senior in the fall. She attends Cornerstone Community Church in Kansas City, Kan. "It was a really good team because I think I actually learned how to be on a team and not to have the focus be on myself."
And while so many people were watching, Gunkel said she didn't feel "too nervous."
"I loved what I was doing," she said. "I was having a great time. I was really excited about continuing on and going for such a high placement."
After a number of years of memorizing books out of the Bible, both Gunkel and Clements are naturally pretty well-versed on the scriptures, though they both say they haven't yet read the Bible in its entirety.
"But I've read the whole New Testament," Gunkel said. "I'm working on the whole Bible."
Reading the Bible isn't just about doing well during the next quizzing season, however. For them, it serves as a kind of life coach.
"I try to read the Bible every day," Clements said. "It just has a lot of stuff that's really good to remember that helps me in my daily life."
As an example, Clements noted the verse James 1:19: "Know this my beloved brothers: let every man be quick to hear, slow to speak, slow to anger."
"That's sort of helped me just because it's really easy to just speak without thinking," Clements said. "And something that's really a good quality is to be able to just listen to someone. There's not a lot of people who actually do take the time to listen."
Still, outside of their daily use of the Bible, the two said they were glad to have found an outlet in Bible quizzing that allows them to utilize their knowledge in such a fun way.
"It's really awesome to be able to spend time with people who have some of the same beliefs, and just making a ton of friends," Clements said. "And the competitions are super fun. Pretty much the point of Bible quizzing is to have a fun way to memorize God's word."
Though Gunkel will soon age out of the group — Summit Bible Quizzing is for ages 11-19 — she said she plans to continue on with quizzing as a table official at tournaments or with any of "the different jobs that they need." She is currently working on her associate's degree at JCCC, with future plans to possibly attend Kansas State University and major in journalism.
"There are several options that I'm considering," she said. "Just trying to figure that out."
As for Clements, she is looking to pursue a future career in the art world, maybe as a children's book illustrator. In the meantime, she is already getting started on the memorization of next season's chosen book of Luke. And later this month, she will be helping out at Summit Bible Quizzing's mini camp, which will be held July 19-21 at Maranatha Christian Academy. The camp is designed for youths who haven't quizzed before to learn more about it and for current quizzers to practice for the next season.
"I'm excited," she said. "It will be super fun."